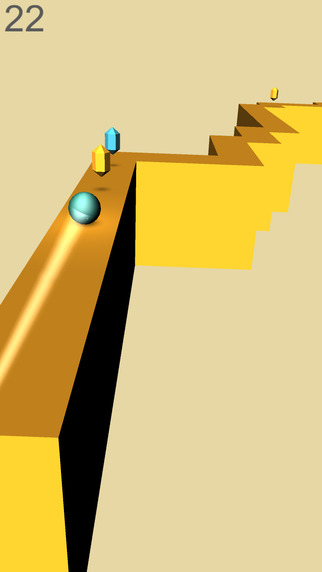 [app url="https://itunes.apple.com/us/app/zibo-3d-zigzag-ball-game/id981487953?mt=8″]
Introduction
Every so often you come across an app that gets you really addicted—the funny thing is that the concepts of these games more often than not are rather simple. Today I got a review of such an app for you guys, namely Zibo by Xllusion Ltd.
In this 3D game it's your job to balance and maneuver a ball across a small path, trying to get as far as you can without falling off. Frustrating as it might be sometimes, I can say I'm still trying to beat my high-score!
How far can you get?
Like I mentioned before, in Zibo you control a ball across a path and try to stay on it as long as you can. Xllusion has done a great job on making this as easy as possible, because you're going to need a very fast reflex if you want to make it anywhere far in this game.
Controlling the ball goes by swiping left or right on the screen—but there are more than one method to go about playing the game. For instance, you can use only one finger and slide to the left or right at all times for a lot of speed and quickness. You can also choose to balance the phone in your hand and use only a finger to slide left, right, left, right and so on which will give you more balance.
I guess in the end it all comes down to what you prefer but when you're trying to beat your high-scores you will find yourself changing methods every so often anyway.
There's more to the game than simply staying on the path, though. You can collect yellow, blue and green diamonds and spend them in a shop to reduce the size and speed of your ball making it easier to stay alive. These diamonds are collected while in-game and when you collect them you will see their effect even when you haven't purchased anything in the shop just yet.
Our conclusion
Xllusion has made an extremely addictive game with Zibo and I can't believe this simple concept has been done before. The intuitive controls make the game and the extra diamonds and things that can be bought are a nice extra. I've already recommended this to my friends and challenged them to see who can beat my high-score. There's also visual change in the game when you reach a certain amount of points, so try to get at least more than 100!
Zibo requires iOS 5.0 and is compatible with iPhone and iPad