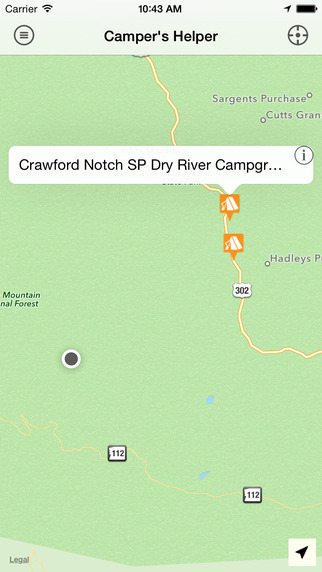 [app url="https://itunes.apple.com/us/app/campers-helper/id919487184″]
Introduction
With summer vacation coming up a lot of people are already planning their vacation—in fact, most people start planning their vacation more than half a year before even going out the door. Out there, however, there are those people a tad more adventurous who are looking for accommodations on the fly. Of course there are a lot of great apps available for this but what if you are looking for strictly camping trips?
The app we're going to feature on this page can help out brilliantly just with that, because Camper's Helpers by Gerard Guerin is designed to find over 55,000 camping accommodations for you to enjoy across the states and Canada. So without further ado let's check out what this app can do for you!
What do you need?
First things first, Camper's Helper starts off by immediately giving you a complete overview of your location and the accommodations located in the vicinity. It only takes a few seconds to set up exactly where you are and what you need by browsing through the interface. The great thing about the app is that it doesn't just feature camping facilities but a lot of other stuff that can come in handy as well.
From rest areas to dump stations, truck stops and Walmart stores really everything you might need in your travel can be located through this app. Finding a camping ground is as easy as then tapping the one you like and getting its information, quickly setting you up with an appointment after a quick phone call.
And there's more
What's even greater about Camper's Helper is the fact that it doesn't even require an internet connection if you want to locate nearby facilities. Browse through the interface to list view and select exactly what you are looking for.
You can also update the data of the app twice a year and get all the new things available in the vicinity! All in all this app is a life-safer for travel and camping enthusiasts and I suggest you check out the app yourself.
Our conclusion
Camper's Helper is easy to use, has amazing features and even comes for free. There is a premium version you can purchase for additional services but even the free app works wonders. The only down-side to the app is that it's United States and Canada only—if you're traveling in any other places chances are this app doesn't do anything at all.
Camper's Helper requires iOS 7.0 and is compatible with iPhone and iPad