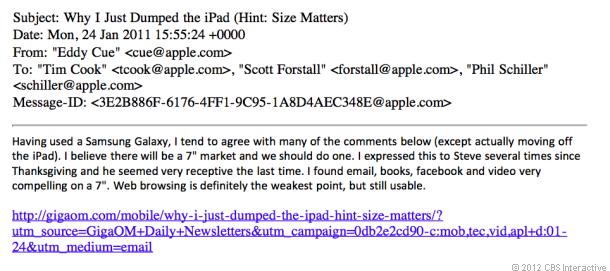 Rumors of a 7-inch tablet offering from Apple – the so-named "iPad Mini" – have been circulating for months. What hasn't been clear however, is where the direction for the move to the 7-inch space was coming from.
An internal email thread entitled "Why I Just Dumped the iPad (Hint: Size Matters) was read out in court today in the ongoing legal battle between Apple and Samsung.
The email was sent by Eddy Cue in 2011 and was addressed to Tim Cook, Scott Forstall and Phill Schiller, and stated quite matter-of-factly that "there will be a 7″ market and we should do one".
Of interest, Cue had noted that he had suggested the idea of a 7-inch iPad to Steve Jobs and he had "seemed very receptive the last time".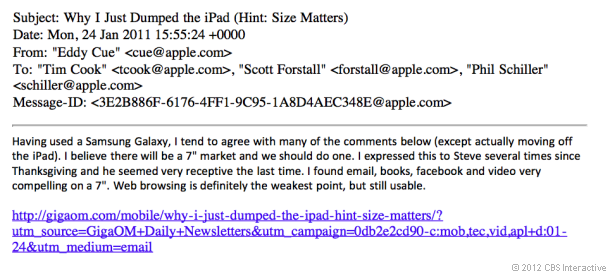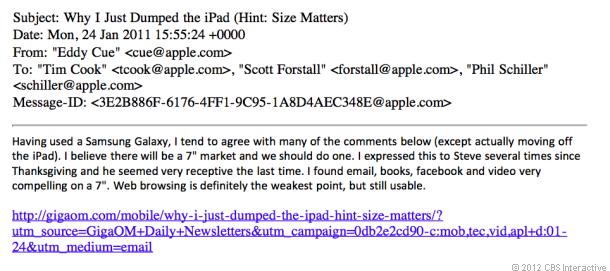 Even if all other reports of an iPad Mini were to be ignored, this internal email is evidence that top-level Apple execs were discussing the idea of a 7-inch iPad more than 18 months ago.
The article quoted in the email thread was this one, published by GigaOm Editor Kevin Tofel.
All signs currently point to the iPad Mini launching alongside the iPhone 5 at an Apple event on September 12th.