Expectations. Intel is signaling the imminent arrival of new chips and Apple's running down supplies of its most popular notebook product line. Yes, boys and girls, it is almost a sure bet that a faster, longer lasting 2013 MacBook Air will arrive in a just a few weeks.
The chain of events that leads to new Apple portables is well understood. Intel and its OEMs are expected to begin shipping new Haswell architecture computers, featuring greatly improved integrated graphics performance and power management at this year's Computex Show in Taipei, Taiwan on or after June 3rd. Then a week later Tim Cook, Phil Schiller et al will introduce if not ship 2013 MacBook Air and MacBook Pro models during the WWDC keynote address in San Francisco.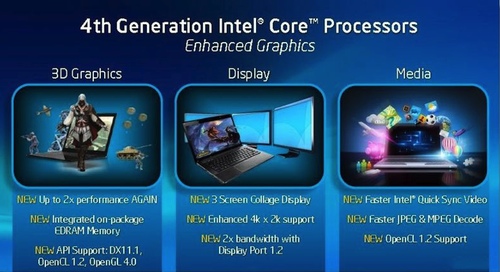 Haswell chips with Intel HD 5000 graphics will offer 10-day connected standby power.
See also: 2013 Mac Pro Coming 'Soon'
That said, there is a new sense of urgency propelling the time line.
AppleInsider reports that current MacBook Air models are disappearing at Apple's third-party retail partners. For example, Amazon, MacConnection, MacMall and B&H all list the popular 13-inch 1.8GHz MacBook Air with 256GB SSD as out-of-stock.
Whereas standard definition MacBook Pro and MacBook Air models are expected to be introduced at WWDC, Retina models likely won't ship until the third or fourth quarter.
Good enough for you or are you waiting for a Retina MacBook Air?