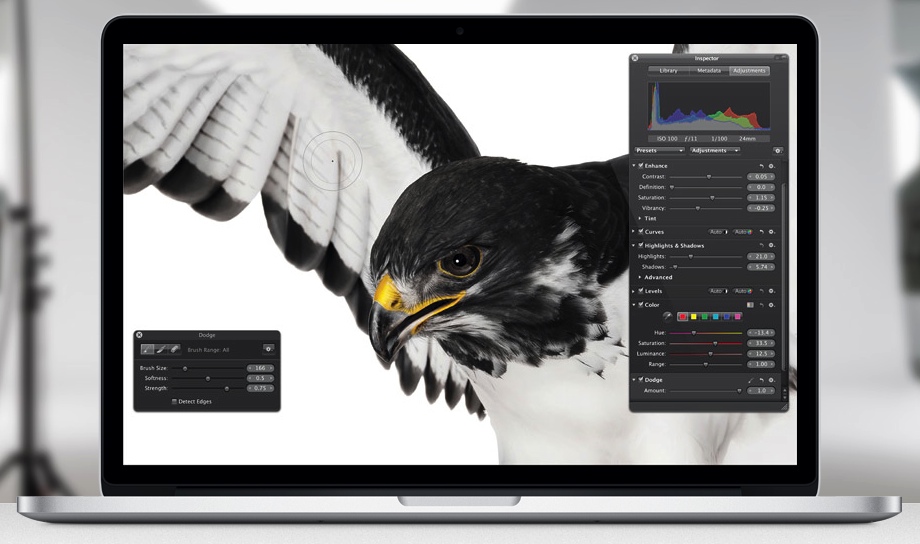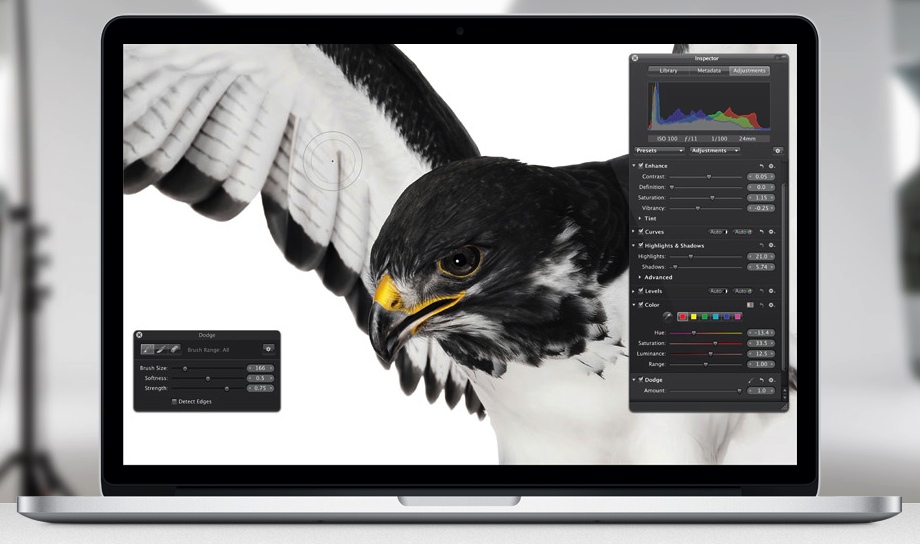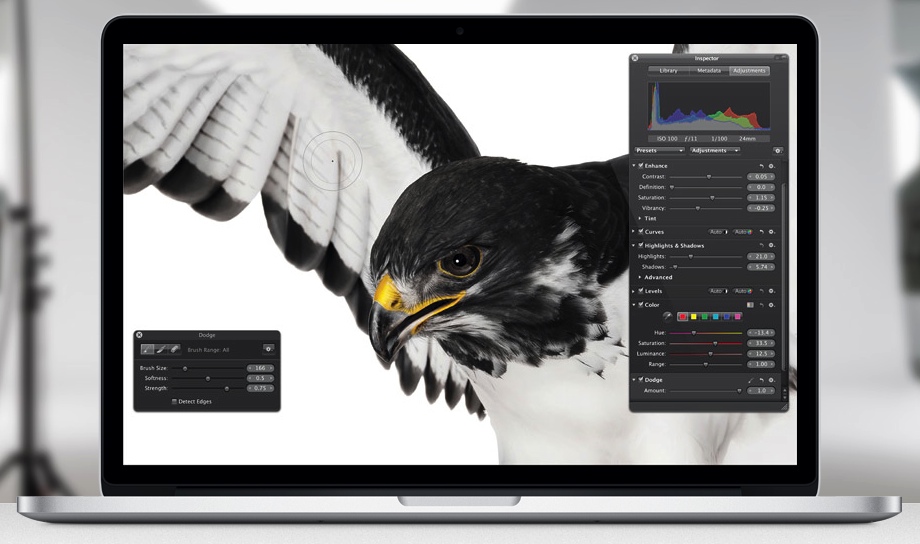 MacBook Pro benchmarks, benchmarks, benchmarks! Apple's Haswell-powered pro portables don't offer eye-popping performance gains, but there is still a lot to love. Whereas most folks are excited by the all-day battery life, Cupertino's newest professional portables also feature much improved graphics performance, especially in the entry-level models.
And, what about that battery life? Apple is saying its 13-inch Retina MBPs can deliver 9 hours of useable battery time, while the 15-inchers will keep chugging for 8 hours.
That said, given Apple's strong reputation for under promising and over delivering on its battery performance claims, as well as early independent testing, it's a safe bet that the new Retina MacBooks will go all-day.
As always, your mileage could vary.
2013 Retina Benchmarks
In terms of processor and graphics performance, the new Macbook Pros are much more of mixed bag. Specifically, there isn't a huge performance gulf between the low and midrange models.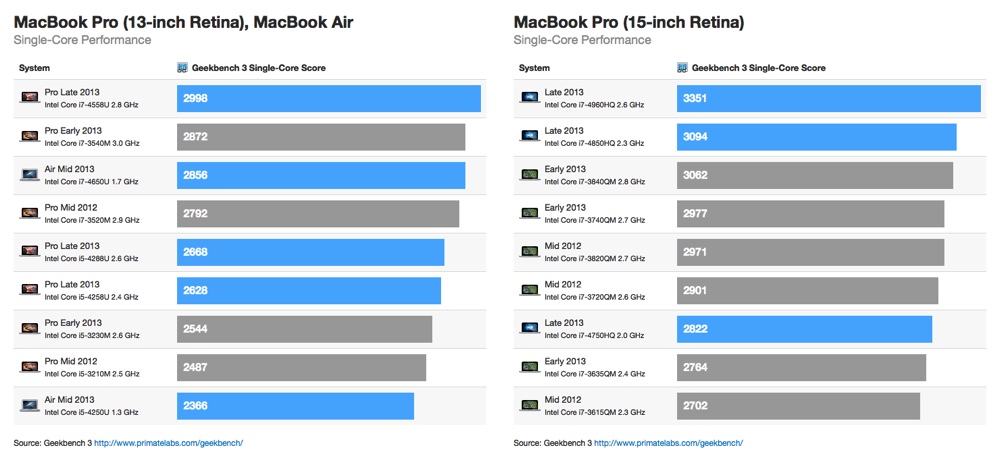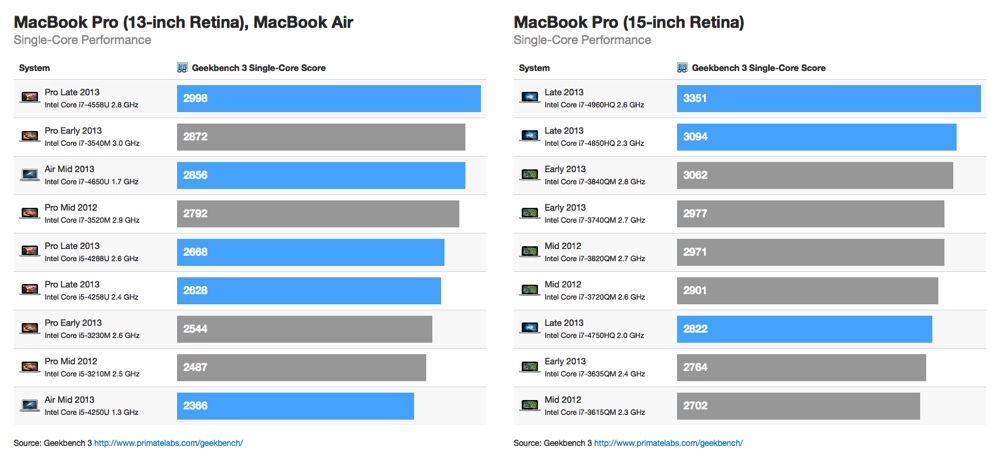 Much like the MacBook Air update earlier this year, the MacBook Pro update provides only a modest improvement in processor performance. However, the improvements in other areas, such as battery life and graphics performance, may make this a compelling upgrade for users with a first-generation Retina MacBook Pro — John Poole, GeekBench founder.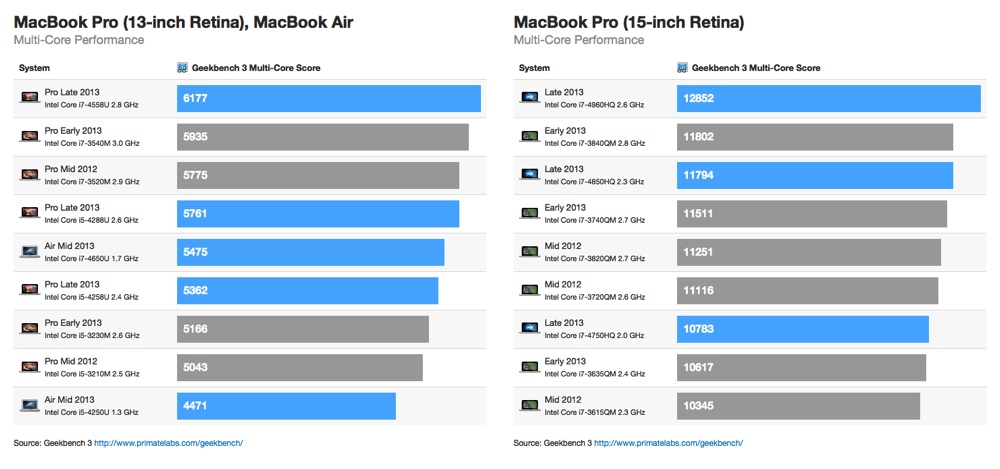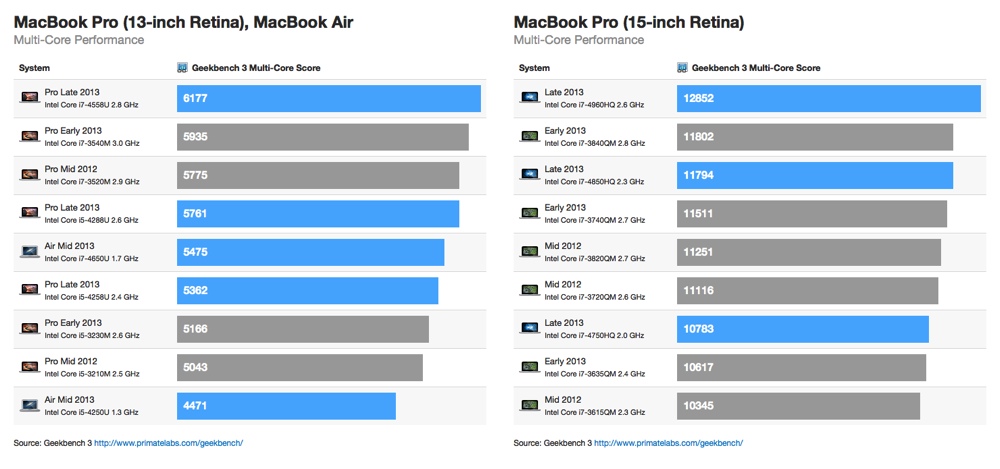 The most impressive improvements in the new laptops came courtesy of the new Iris graphics. Compared to the HD 4000 graphics in the early 2013 13-inch Retina MacBook Pro, the Iris graphics posted between 45 and 50 percent higher frame rates in Cinebench r15's OpenGL tests and the Unigine Valley Benchmark. Unigen's Heaven benchmark showed the new systems with about 65 percent improvement in frame rates over the earlier model — James Galbraith, Macworld.
Although there is certainly more than one way to interpret the above MacBook Pro benchmark numbers, the biggest differences between the various configurations seem to be their prices, which range from $1,299 to $2,599, rather than performance per se — i.e. 100 percent vs much less than that, respectively.
[Battery] Power Unleashed
This is perhaps unsurprising given how little attention Intel has given CPU processing power as opposed to the huge improvements in battery and integrated graphics performance in their latest silicon. In fact, the biggest advantage Intel's new mobile Haswell processors have over previous generation chips is their ability to manage and control processing for benefit of improved battery life.
To whit, Apple's just released OS X Mavericks offers a blend of battery and processing performance enhancements, like support for OpenCL 2 and OpenGL 4.1, and you don't have to buy a new MacBook Pro to get (most of) those benefits — OS X Mavericks is free.
So, should you buy one of Apple's pretty new MacBook Pros? If it's all-day battery life you crave, then yes. Additionally, no one makes eye candy — a deliciously crisp Retina display housed inside a sexy, precision engineered Aluminum and glass body — like Apple.
Otherwise, you might want to shop elsewhere or wait until next year…
What's your take?