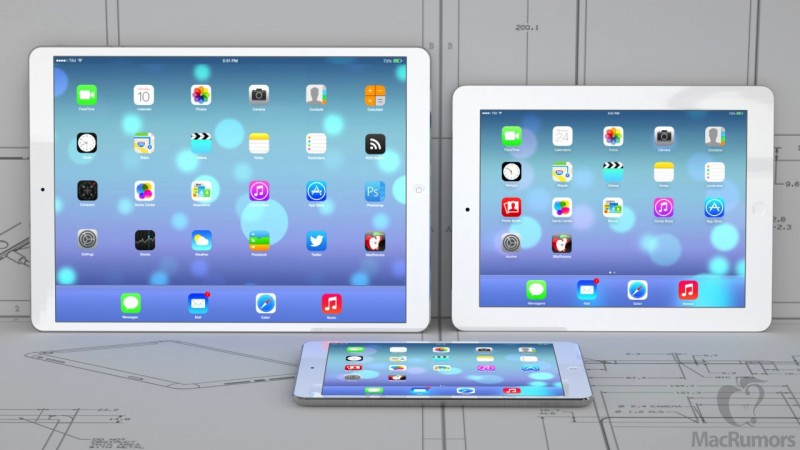 The 2014 iPad refresh is all about catching up with the iPhone. While that sounds like last year's news, Cupertino's tablet offerings are still well ahead of the competition and the 2014 iPad models will underscore that decisively.
Last week, Tapscape asked with tongue firmly in cheek, but only partly in jest, if a gold iPad Air could revive flagging tablet sales — Apple has had good, though not perfect luck goosing sales by simply adding color to its products.
Here in the future, we get confirmation that, yes, indeed, gold iPads are coming at the Thursday, October 16 Apple Event, which is also confirmed in today's rumor roundup.
And, that great big iPad Pro shown on the left (above)? Not gonna happen this year.
2014 iPad Specs
• 2014 iPad Air will come with Touch ID (aka fingerprint sensor)
• Will include an 8-megapixel camera, up from 5MP in current models
• Will be powered by an A8 system on chip processor
• 2014 iPad Air will include 2GB RAM (finally)
• Will come in 32, 64 and 128 GB configurations
— 16GB model will be dropped
• Two grill speaker array will be replaced by a one grill config
Further, Apple is getting rid of the mute/aspect lock switch as part of its effort to slim the 2014 iPad Air. This will reduce its thinness to 7.0mm from 7.5mm.
Finally, as part of the 2014 iPad Air slimming process, volume paddles will be somewhere recessed.
Perhaps not the most exciting tablet refresh one could imagine, but with the Touch ID equipped 2014 iPad Air will be able to make mobile payments, very cool. And, given what we know about Apple's 8MP camera — aka best in the world — this year's update with 2X storage for the same money is going to be very, very solid if somewhat unsexy…
What's your take?