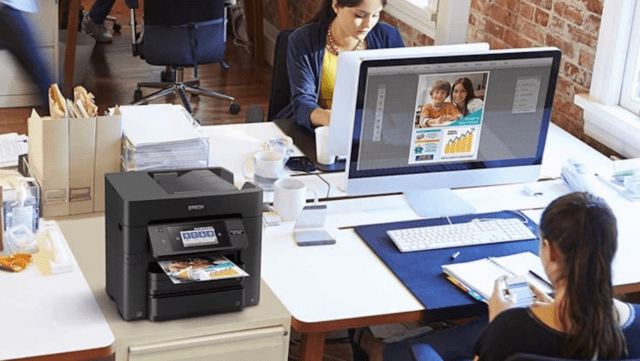 It is necessary to realize the difference between offset and digital printing to understand which one is on the top when it comes to printing the marketing originals. We have discovered a brief comparison to make you better understand the nature and working of both technologies. Let's discuss the concept, process, benefits, and drawbacks of both printing techniques.
Offset Printing Technology Overview
Offset printingis generated on a printing press through wet ink and printing plates. This technique takes a long time to produce prints as there is more processing time involved. This technology generates the highest quality printing solutions available in the wide variety of merchandise and offers higher control over color combinations. Apart from this, offset printing is relatively a low-price option when producing extensive (large quantity) prints for any purpose. This technology uses etched metal plates usually made from aluminum, that transfer images onto a rubber blanket and then roll those images by apply ink onto a paper sheet. Since the ink requires an indirect approach to get on the paper, it is called offset printing technique. This printing technology is the best option when larger quantities are needed as offset press runs efficiently once they are established. Offset printing technology is also considered as the best option for custom printed packaging. It provides accurate color reproduction with crisp and clean professional printing solutions.
Pros
It generates superior and reliable image quality without spots
It offers better color obedience with respect to the accuracy of the colors' combination.
This technique can mix custom color inks for each print order.
It treats equally to all types of materials endpaper sheets.
It provides higher value for your money especially for large volume projects in the shape of cost-effective prices.
Once you have invested in offset printing machinery, all materials are ready to go immediately. You can spend less on high volume offset prints than a digital print technique.
A wide range of compatible materials is available in this technique.
Larger size paper sheets are used in offset printing.
Cons
The start-up cost of an offset printer makes it an expensive choice for low-volume printing jobs.
Production timetables are often longer since plates need to be created first.
There is a lack of ability and flexibility to create personalized printing pieces with varying custom options
Worse fallout happens in case there is an error. A little mishap can damage the plates, it is harder to fix easily and all the process can start all over again.
Digital Printing Technology Overview
It is a digitalized printing mechanism that works oppositely to offset printer. Digital technology uses electronic media files from a PC or other digital storage devices as an input resource. Contrary to the offset printing technique, it involves toners for printing the image/text on the paper. Digital printing works well when low or minimum order quantities are needed.
In simple words, it is best when you need 50 greeting cards or 100 flyers. It has variable data capability when each piece needs a specific unique code, name, and address, the digital technique is the only way to go efficiently. Offset printing cannot accommodate this need in accordance with managing data. Digital printing has been used to be called 'copying,' but that term is now outdated. Today, instead of copying a complete hard copy original, most of the digitalized prints are the output directly from electronic files. It is the quickest way to produce low volume prints, especially when there are too many originals. The quality level of digital technology is now extremely close to the offsetting technique. Although digital technology works well on most stocks today, there are still some papers and jobs where offset printing works better all the way. According to a custom packaging company named ascustomprintedboxes.us, it's one of the finest printing techniques for printing on custom boxes. For better understanding, let's have a look at the benefits and drawbacks of the digital printing technique.
Pros
It is cost-effective and provides a faster turnaround time.
Each print is made identical with fully customized options. There is less risk of odd variations caused by imbalances in water or ink.
It is a cheaper option for low volume printing jobs.
Customizable within a single print job and allows us to make a last-minute change with less cost and less time consumed.
If you are printing out postcards advertising a concert, you can change the dates and locations for part of the batch to create two sets of cards for two different shows.
Cons
Digital printing offers limited types of compatible materials you can print on.
There is less color fidelity possible with digital technology because it uses standard inks that cannot exactly match all colors. But offset prints use specially mixed inks, which will always be a closer match for color compatibility.
Digital is improving and getting closer with blended inks, but those inks still do not match with the color combinations.
It includes a higher cost for large-volume printing jobs.
It provides a slightly lower quality and sharpness.
Inks do not absorb into paper as much as offset inks do, which can lead to cracking on folded pieces of printing.
Offset printing technology has been around for more than a century. And for decades, it was the best way to print just about everything commercial; like newspapers, booklets, magazines, postcards, advertisements, brochures, and much more. It is also used for retail product packaging including wholesale candle boxes, cereal boxes, pillow boxes, and other product packaging boxes.
Generally, offset printing works through transferring ink from a plate to a rubber paper, which then rolls the printing ink onto the sheet or another surface. This contrasts with digital printing, which does not use plates to transfer ink to a paper sheet. Offset technology is regarded as being of higher quality than digitalized printing. Generally speaking, offset press allows you to print larger sheets and can print many pieces quicker than digital presses. Outside of these relatively minor differences, the actual finished products associated with digital and offset printing are remarkably similar. The difference, as it turns out, is embedded more deeply in price and budget than anything else, and even these numbers are unexpected in your business needs.