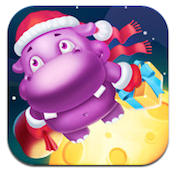 Price: FREE Score: 8/10 Category: Games
Air Hippo is an iPhone game developed by Oleg Kapitonov. Whether you've been naughty or nice this year, this Christmas-themed iPhone game is a fun way to pass the time this holiday season.
In Air Hippo, you play as a hippo that has decided to take a turn as Santa Claus. Hey, Santa can't deliver all those presents by himself, right?
Hippos are just inherently hilarious, but they rarely get featured in games. Go ahead– try and name one other notable game that stars a hippo, besides the classic board game Hungry Hungry Hippos. As in the board game, the hippo of Air Hippo is also brightly colored…and ready to make kids happy. His goofy face is the best part of the game.
In Air Hippo, your goal is to bring presents to good children, while staying away from the bad children who are upset that they didn't get any gifts this year. Try and stay away from them, while also moving as fast as possible.
The controls are tilt-based, and unfortunately not as responsive as I would have liked. They're decent, but they could use some refinement and calibration: my hippo would have moments where he would either not move at all while I was tilting the screen, or go flying uncontrollably.
The graphics are cute, but the main screen is too cluttered with icons: it is very confusing when you first open the app. One thing that is great, however: the app recently got updated on December 8 to address some crashing issues.
With a soundtrack that sounds like a zany carnival crashed into an orchestra performing the songs of Fantasia, Air Hippo is good clean fun for adults and kids alike. If you want a Christmas-themed game on your phone, this is one title that is worth checking out. At the very least, you can play it to kill time waiting for Christmas dinner to finally hit the table.
Air Hippois compatible with iPhone, iPod touch, and iPad. Requires iOS 5.0 or later. This app is optimized for iPhone 5.