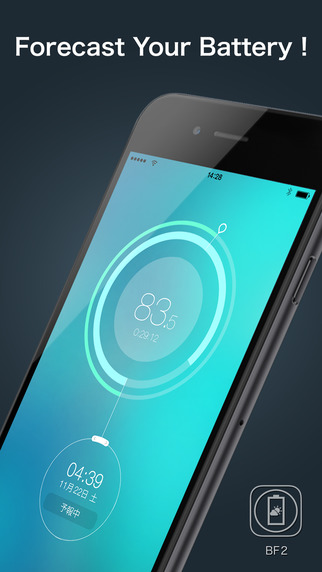 [app url="https://itunes.apple.com/kr/app/battery-forecaster-2/id441519687?l=en&mt=8″]
Introduction
If there's one thing that's frustrating, it's when your phone is about to die. Even after charging up your phone to full battery it can sometimes happen that your phone is completely depleted of energy within a couple hours. Of course it's always smart to keep close control over which apps you use, since some just seem to suck out so much energy without reason.
But it's always helpful to have a specific tool available to keep track of your battery usage. Today we're featuring Battery Forecaster 2, an app especially build to do just this. Let's look at what this app can do for you in the review, shall we?
Battery Forecaster 2
The idea of Battery Forecaster is to show a detailed insight to how your battery operates. The app has a very simple overview that shows exactly how much battery you have left, the time and the ideal percentage of battery you need with how much power your phone is currently using.
The app itself is free to download, but it runs ads and only the basic features are available. I think it's kind of ridiculous to have people pay to remove ads and to unlock the features that themselves make the app wortwhile to download. If you don't have a few bucks to invest for all the features, this app really doesn't show all that much valuable information for you.
The app has a beautiful interface and is very professionally designed, also having a nifty button to turn down the brightness of your screen for longer fatigue of your phone. Like I said before, the features that are unlocked by paying are the ones that really make the app wortwhile. These features include a detailed overview with exactly the amount of resources and how much battery they are currently using.
Tapscape's final thoughts
Battery Forecaster 2 looks amazing and has some incredibly promising features. The app can really help out on many fronts when you're trying to get the most out of your phone without constantly being in need of a charger. It's a bummer you need to pay up for certain features as there are already ads running but it's certainly worth the money if you're willing to invest. Battery Forecaster 2 is also compatible with iWatch, so if you have one of those you definitely want to look into this one.
Battery Forecaster 2 requires iOS 8.1 and is compatible with iPhone and iPad