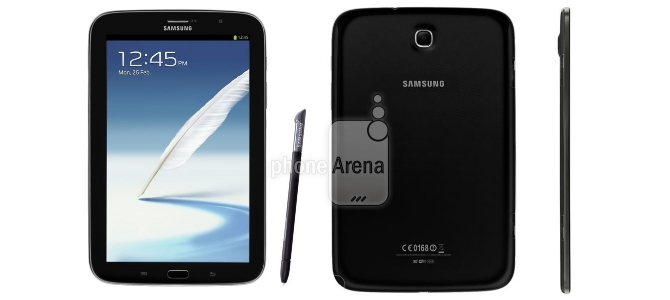 Samsung unveiled their latest tablet, the Samsung Galaxy Note 8, at the 2013 Mobile World Congress conference last week. However, they never mentioned a Charcoal Black version.
At the conference, Samsung revealed the device in the company's traditionally selected, Marble White.
But today, an anonymous source for Phone Arena leaked an image (above) showing a Charcoal Black Samsung Galaxy Note 8.
The image certainly looks convincing, however, it would be wise to keep this safely in the rumour pile until Samsung officially announces that Charcoal Black will indeed be a colour variant of the widely anticipated Samsung Galaxy Note 8.
Of course, it would make perfect sense for Samsung to release a black version of the device, as well as the already revealed white version. After all it's main competitor, the iPad Mini, also comes in both a black and white version.
Samsung Galaxy Note 8 Recap
If you missed our roundup of theSamsung Galaxy Note 8 featuresrevealed to us last week by Samsung, here's a quick recap of what we know so far.
The Samsung Galaxy Note 8 runs on Android 4.1.2 Jelly Bean, and comes with an 8-inch WXGA (1280×800 pixels) TFT display with a 189ppi pixel density, which is slightly better than the iPad Mini's screen resolution. The tablet also has an impressive 5-megapixel rear and a 1.3-megapixel front camera.
Samsung's latest device will boast internals consisting of a quad-core processor running at 1.6GHz, 2GB of RAM and up to 32GB of internal storage, which can be expanded with microSD cards up to 64GB in size.
Will you be buying the Charcoal Black Samsung Galaxy Note 8? Or do you prefer Samsung's traditional Marble White? Let us know in the comments section below!
After leaving full-time employment, I have become focused on building a career based on various forms of writing, blogging and Internet marketing in general.
As well as running my own blogs, I have written content for various Internet Marketing websites, along with reports, news & reviews for technology related blogs.