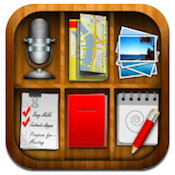 Price: $2.99 Score: 9/10 Category: Productivity
Boxes by Fishington Studios (official website here) offers an elegant solution for storing and visualizing things that are important to you. From audio recordings of classroom lectures to presentations for work to keepsakes from your kids, this handy iPad app is beautifully designed to keep your life organized.
Boxes by Fishington Studios works by creating "boxes" where you can store items. Open the box, and your can sort through your belongings. Each box contains one or more notebooks, with each notebook being used by you to store text, images, to-do lists, audio recordings, and even maps.
But Boxes by Fishington Studios isn't just about storage: this supremely elegant iPad app also allows for collaboration on each notebook item, making it a great way for students to work on a shared report or presentation. It is also a great tool for business colleagues to use when managing projects. And since the app uses cloud based file storage, all your changes are kept in sync (just make sure to have a network connection for best results.)
The organizational structure of Boxes by Fishington Studios is pretty much perfect. It's very easy to navigate, and having your notes in a physical representation of a shelf is a great way for visually oriented people to keep tabs on where certain files and items are stored. It's a small touch, but a very good one: those virtual shelves really work as a storage system that improves your mental recall for where you store your work.
With robust note taking capabilities, great drawing functionality, a great tutorial, and a super design, Boxes by Fishington Studios is an iPad productivity app well worth having in your arsenal, no matter what you study or what line of work you're in.
Boxes by Fishington Studiosis compatible with iPad. Requires iOS 5.1 or later. A small expedite fee was paid by the developer to speed up the publication of this iPad app review.