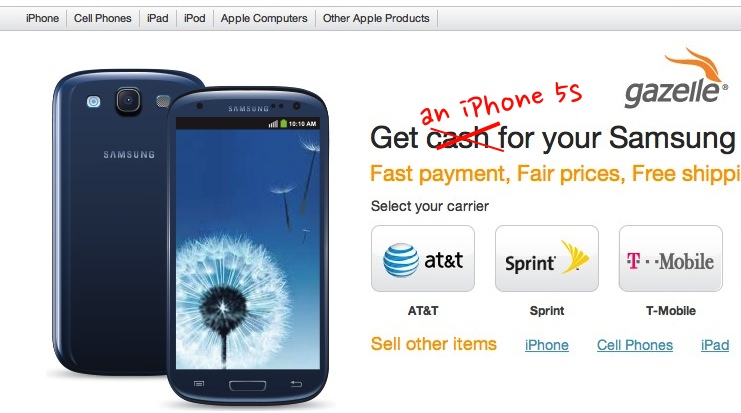 On Monday, Apple announced that it had smashed the smartphone opening weekend sales record by a whopping 80 percent on sales of more than 9 million iPhone 5s and iPhone 5c units. Of course, Apple owned the previous record, as well, but that's not the punchline. Gadget recycler Gazelle also posted record sales, too — lots of people were trading up from dissatisfied Samsung fan to iPhone 5s buyer.
As well they should.
According to Gazelle, 210 percent more people traded in their Samsung phones from Friday, September 20 through Sunday, September 22 — a.k.a. the iPhone 5S and iPhone 5C launch — the same weekend a year ago.
"During launch day on September 20, Gazelle made five offers per second between 10 and 11 AM ET," writes TUAW, quoting Gazelle data. "That's a whopping 18,000 people in that hour who decided to trade in their existing phone for cash to use on a new iPhone."
So, Apple can't innovate anymore? Obviously, a whole lotta freshly minted iPhone 5s buyers disagree.
But rather than take Gazelle, TUAW or even Tapscape's word for it, let's just go straight to the Mouth of Sauron Phandroid, an enthusiast site dedicated to Android devices and users:
With every new iPhone release, it never fails. I log into Facebook or Twitter only to find that many of my friends, while currently sporting Android devices, fall victim to Apple's charms and its promises of an even better iDevice. With the release of the iPhone 5s… this was no different.
Actually, it was different this time — 210 percent different.
iPhone 5s Buyer Motivation
Gazelle surveyed 3,000 customers about why they chose the iPhone 5s and the top two replies come in pretty much exactly like you'd think: 36 percent were due to upgrade anyway and 16 percent were interested in Apple's Touch ID fingerprint scanning tech.
In a nutshell, while a discrete Apple innovation appealed to some, a plurality were off contract and simply wanted a better (as in better does) smartphone. Welcome, new friends, new iPhone 5s buyers…
What's your take?