Candy Crush Saga is one of the most frustratingly addicting games in recent memory, but also one of the most profitable. Available on both the App Store and Google Play, the casual mobile game has been a huge money-spinner for its Irish developer King Digital. After several successful years in the mobile market, King Digital has now announced plans to go public with hopes to raise over $500 million (See the F-1 Filing).
The company's growth has been nothing short of incredible – revenue has grown from $63.9 million 3 years ago to $1.88 billion last year, with some 408 million active users logging in every month. While the developer has recently shot to fame, King Digital has been in the gaming space for over 10 years and has been profitable since 2005.
While King Digital's best known title is Candy Crush Saga, the developer has a total of three of the top 10 grossing games in the App Store (Candy Crush, Pet Rescue Saga and Farm Heroes Saga). Candy Crush, by far the most profitable of the releases, accounts for 78% of the company's total bookings. The graphic below shows the huge increase in revenues following the launch of Candy Crush Saga (indicated by the red arrow).
The company's success is undeniable – but can King Digital continue its run of hits to support its reported self-valuation of $7.6 billion? Whilst one or two popular titles is not out of the question for any seasoned game development studio, continuing to produce sustained revenue growth year-in and year-out is another story. Just ask Rovio – the company once dominated the Top 10 charts with games from the Angry Birds franchise, but today they've slipped to almost half-way down the Top 100 list.
The image below shows the ranking of Candy Crush Saga in the US app store over the past 12 months. The game spend a highly respectable amount of time at the top of the charts, but it's rankings have been in steady decline since late 2013. Candy Crush Saga still has a colossal number of active users – but the growth in the user base is in decline.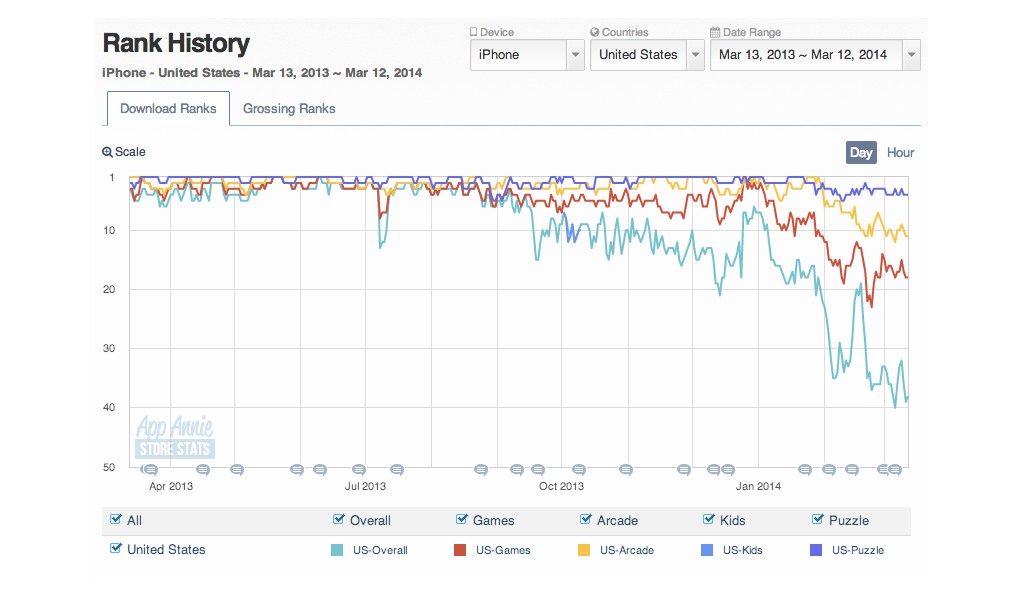 Potential investors in the King Digital IPO offering may also be scared off by visions of a repeat of Zynga's disastrous IPO in 2011. Shares in the casual gaming company have fallen 40% since Zynga (ZNGA) went public three years ago.