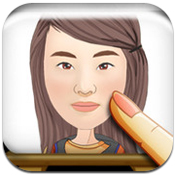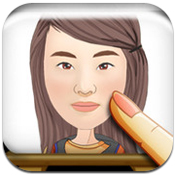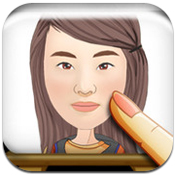 Price: $0.99 Score: 7/10 Category: Entertainment
Caricature Maker Pro iPhone App Review
Always fancied being a caricature artist, but never had the time to learn the art? Lucky for you thatMcookie inc. has developed Caricature Maker Pro, an application that allows you to turn ordinary photos into exaggerated, big-headed caricatures in a fully customizable yet easy and intuitive to operate system.
The most important thing when working with Caricature Maker Pro is that the quality of your initial photo will greatly impact the quality of your finished product. Since you are working with a head shot only, you will create a better caricature if the head is perfectly vertical. You do have some rudimentary control over the angles and proportions of facial features in your caricature, but the better quality input you have, the better final product you will create.
Caricature Maker Pro allows you to select from photos already stored on your device, take a new picture, or select from a head you have previously designed and saved to Caricature Maker Pro. Once you select your photo, you are prompted to begin editing your photo.
In a wizard-style interface, Caricature Maker Pro guides you to identify key facial features from your initial photograph, and then you may edit the shape by dragging the yellow points. If you pinch the grey square you are able to change the size, and moving the grey square will reposition the entire feature you are working with. The toolbar along the top allows you to edit facial structure, eyes, eyebrows, nose and nostrils, and lips.
Once the initial facial design is made, it is saved and you again enter a wizard mode where you can incorporate additional features, including hair, glasses, and pre-designed backgrounds. In this case, I fancied a trip to the beach and took the opportunity to pose for my caricature on a dock. Once I am satisfied with my work, I have the option to save or share my work through a variety of mediums.
For what it is, Caricature Maker Pro is a user-friendly and easy to master, but there are a few features that are absent or lacking. Once you have designed a face, it is saved to your gallery so that you may come back to it and use it again later; however, if you wanted to tweak something with it, you're forced to start all over with a new face.
Also, the symmetry tool can be a source of frustration. If you like the position of, say, one eyebrow, but the other needs to be moved over a hair, unless you turn off the symmetry tool, both will move. Additionally, there are a very limited number of add-ons for your caricature. If you want additional poses, hairstyles or backgrounds, they are available from the Caricature Maker Pro store.
Overall, Caricature Maker Pro is good for the amateur artist looking to design entertaining artwork without the need to start with a completely blank canvas.
Caricature Maker Pro (iTunes Link) is available from the iTunes store for the iPod touch, iPhone and iPad.