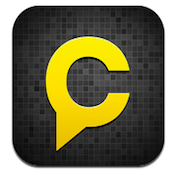 Price: FREE Score: 8.5/10 Category: Photo & Video
ClipClock is an iPhone app developed by Future Services LLC. Think of ClipClock as a hub for social networking through videos. Featured on The Next Web, Wall Street Journal, Venture Beat and TechCrunch, ClipClock lets you share cool video updates with people all over the world.
ClipClock won 1st place out of 20 startups on Microsoft MAW Demo Day at March 22, 2012. In addition, ClipClock also scored a 1st place spot on Startup Monthly Co-investments Day in March 2012 in competition with 30 startups.
The idea being ClipClock really is a winning one. Instead of telling your friends to watch a YouTube video and skip ahead to a certain section, ClipClock makes it easy to share just the relevant clips from a video from YouTube or Vimeo.
While I wasn't crazy about their site design, the app design is way nicer. It's a very slick, clean app that is easy to navigate. I particularly like the new feature "Discovery," a screen for top videos shared on Facebook and Twitter that are linked to your interests.
If you are a Facebook abstainer, bad news: the ClipClock app requires you to log in with Facebook. I get that if you're posting videos, but it's silly that you can't even watch a video without logging in first. It's a bad move, because people who either don't use Facebook or don't want to bother with signing in will get turned off by this Facebook-only login policy.
Bottom line: ClipClock is a great-looking app that's deserving of all the media attention it's been getting. It's not perfect yet, but it's well worth a download. This app is one of the nicest ways to watch a video on your phone.
ClipClock is compatible with iPhone 3GS, iPhone 4, iPhone 4S, iPhone 5, iPod touch (3rd generation), iPod touch (4th generation), iPod touch (5th generation) and iPad. Requires iOS 5.1 or later. This app is optimized for iPhone 5.