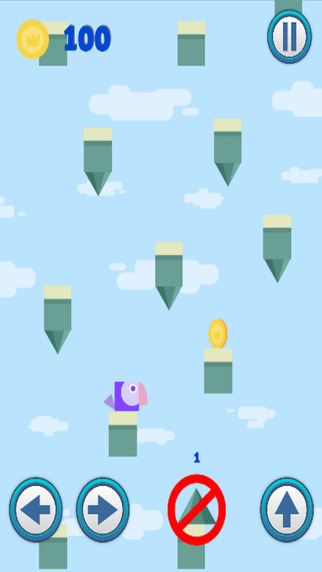 Published by Luxury King Games, Critter Hop is a 2D vertical platform game for iPhone.
The mechanics are simple, but the game itself is quite challenging. You're in control of a little critter named Hector, and you jump by tapping the 'up' arrow with your right thumb and move left and right using your left thumb.
As you jump, you need to avoid the spikes which are present above and below different platforms whilst trying to collect coins which bump up your score. If you land on, or even nudge a spike whilst re-positioning for another jump then it's game over.
The game has three difficult settings – Easy, Normal and Hard and provides an 'endless' gameplay style where you're only limited on how far you can get into the game by your skill (and patience).
Critter Hop has 20 different critters to unlock, but you'll need to reach a minimum high score of 4000 to do so – which is no easy feat!. The critters all look different but play in exactly the same way as Hector.
The visuals in Critter Hop are simple but effective and are well-matched by arcade-style midi tunes. It's a free game, but is supported by in-game ads (only appear after you've finished a round, never during).
Critter Hop is a fun, challenging vertical platformer which you can download now for free on the App Store.
Critter Hop requires iOS 6.0 or later. Compatible with iPhone, iPad, and iPod touch.