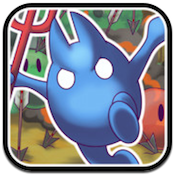 Price: $1.99 Score: 8/10 Category: Games
Evil minions are coming to destroy the lives of peaceful villagers! It's up to you to save them inCrossroad Defenders, a challenging new iPhone game developed by Benjamin Hill (Kyro.)
While it may not have the best graphics when compared to other tower defense titles currently available on the iPhone, tower defense junkies will still find a lot to love about this retro-styled TD title.
One thing that is kind of annoying about Crossroad Defenders is the inability to see the whole field of play at once. While responsive controls do let you scroll around to take it all in. However, it would be nice to be able to use a pinching gesture to zoom out and see the whole area you're trying to defend.
The background music is appropriately atmospheric, and the sound effects are minimal, but all the audio elements work well together to make the game coalesce into a fun tower defense game experience.
However, the characters in Crossroad Defenders can look a bit similar at times, making some attacks confusing. On the whole, the pixelated characters are quite small in size in the iPhone's screen, and might have you squinting a bit during each attack from the rampaging horde.
But despite some minor annoyances, the overall gameplay experience in Crossroad Defenders is great. The controls are easy to decipher and placing each new tower or barracks can be done quickly.
One of the best aspects of the game is the more realistic approach to depicting the movement of oncoming troops. Unlike most TD titles on iPhone where the attackers move in a single file line, there's more diversity in the way that the hordes move in Crossroad Defenders.
If you want a stripped down, no-frills Tower Defense experience, Crossroad Defenders is an iPhone game that offers gameplay that will appeal to TD newbies and experienced players as well.
Crossroad Defendersis compatible with iPhone, iPod touch, and iPad. Requires iOS 5.1 or later.A small expedite fee was paid by the developer to speed up the publication of this iPhone game review.