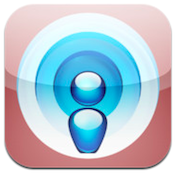 Price: $0.99 Score: 8/10 Category: Health & Fitness
Diet Orb, an iPhone app developed by PI Apps, doesn't get a lot of points for style. The design is a bit, well….not pretty. But if you judged this iPhone app solely by its looks, you'd be missing out on a helpful weight loss tool.
While it may not be for everyone, Diet Orb offers a truly unique strategy for shedding pounds. It sounds a bit crazy, but the developers say it works. The Diet Orb emits a frequency that allegedly works in concert with your body's own natural frequency. The sound emitted by the app is said to increase your body's metabolism and help you burn calories.
The sound that Diet Orb emits is a melding of different tones: buzzing, humming, and a kind of echoey sound that's hard to describe. I'm not sure that the noise has any effect on my brain chemistry or metabolism (that would take weeks of clinical study to verify). But when I hear the noise, it does make my brain feel…something. Kind of woozy, maybe?
The audio track runs for 10 minutes, and it's recommended that you listen to it twice a day for best results. Headphones aren't required, but are recommended if you are in a crowd of people.
Diet Orb includes a feature where you can post your Diet Orb updates to Facebook. There's also a log where you can track how often you use Diet Orb, and track your results.
Now, for the negatives. Diet Orb does take quite some time to load, which is a bit annoying. Also problematic is the app's tendency to crash during startup or doing regular use. But if you're looking for a different approach to weight loss, using the Diet Orb iPhone app in combination with a sensible diet and exercise plan may give you the boost that you crave.
Diet Orbis compatible with iPhone, iPod touch, and iPad. Requires iOS 3.1 or later. This review is not intended as medical advice, nor should you use this review to treat, prevent, or cure any disease that you may have.A small expedite fee was paid by the developer to speed up the publication of this iPhone app review.