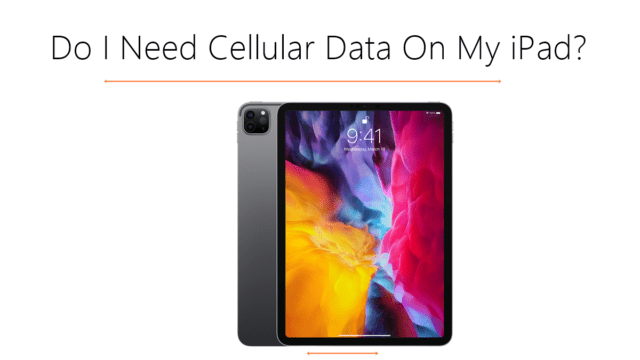 There are two main types of Apple iPad available in the market today: Wi-Fi-only iPads and Wi-Fi+cellular models.
As the name suggests, a Wi-Fi-only iPad will allow you to connect to the internet only when there's a Wi-Fi network, while with a cellular iPad, you can connect to the internet via 3G or 4G LTE connection (and very soon, 5G).
The thing is, the Wi-Fi+cellular model is typically around $130 more expensive than the Wi-Fi-only model. So, is the price difference justified? Do You actually need cellular data on your iPad? Here, we will answer those questions.
What Does iPad with Cellular Data Mean, Anyway?
iPad with cellular data simply means it has a cellular SIM card inside it, whether it's the newer models with embedded SIM (eSIM), Apple SIM, and older models with a SIM card tray where you can insert an Apple SIM or SIM cards tied to your chosen cellular providers.
As discussed, the main consideration of whether you should get a cellular data iPad is the $130 price difference. The basic consideration is if you have Wi-Fi access regularly where you use the iPad (at home or work), then the Wi-Fi model is probably a good choice. However, if you travel a lot and don't always have access to Wi-Fi, then probably you should get a Wi-Fi+cellular iPad.
However, it's not always that simple. There are some other considerations to consider.
First, is that a cellular iPad has another advantage in GPS functionality. A Wi-Fi-only iPad doesn't have a built-in GPS antenna. However, it can still fairly accurately pinpoint the iPad's location via Wi-Fi positioning as long as it's connected to Wi-Fi. Basically, the Wi-Fi-only iPad will draw a database of known Wi-Fi hotspots to determine your location.
A cellular iPad, however, has a built-in GPS antenna so it's much more accurate in pinpointing the device's location. This is useful in cases when you lose your iPad, so you can use the Find My iPad feature even without Wi-Fi.
Another consideration is that you'd need to pay for a separate data plan for your iPad, which means an additional cost on top of the more expensive iPad unit.
Also, although not by much, a cellular+Wi-Fi iPad has lesser battery life compared to a Wi-Fi model when you use a cellular data connection. This is normal because cellular connection simply consumes more power, but it's still less overall battery power.
When You Should Choose iPad with Cellular Data
In general, here are the following reasons you might want to choose an iPad with cellular data:
You want/need to use your iPad as a phone or to regularly send text messages
You are going to regularly use your iPad in places without Wi-Fi access, for example, if you are going to travel a lot
You are going to use your iPad in areas with cellular coverage (but no Wi-Fi)
You want to share your iPad's connection via personal hotspot to provide Wi-Fi signals to other devices such as your computer and even your phone. This is useful if you live in locations without broadband internet coverage but cellular coverage.
You want to access content (books, music, photos, videos) without having to download them in advance
You need to use GPS regularly with your iPad, for example for Google Maps when traveling and in outdoor activities
You need to Skype/Zoom regularly away from your house/office (i.e. in your car) and can't wait for Wi-Fi
You regularly use Apps that require internet access to work in the background like certain online games, GPS navigation, etc.
You are okay with the extra $130 price tag for the device and to pay for the monthly cellular data fees.
When The Wi-Fi-Only iPad is The Better Choice?
Again, the main consideration here is whether paying the extra money for the more expensive cellular iPad and the monthly data plan is going to be justified based on your needs. You might be okay with a Wi-Fi-only iPad if:
You don't need to text/make a phone call on your iPad (remember that you can still use messenger apps, Skype, Zoom, and other Apps when there's Wi-Fi)
You are going to use your iPad in places with regular Wi-Fi access (in your home or workplace)
You are okay with downloading content (ebooks, movies, etc.) on your iPad before consuming them and using your iPad as a media player
You are not traveling a lot, or even if you travel a lot, you don't need to be always online. You can wait for Wi-Fi in places such as your hotel, nearby cafes, etc.
You are mainly going to use Apps that don't require internet access all the time to work.
You are not going to use your iPad too often, pretty self-explanatory
End Words
If you've decided that a cellular+Wi-Fi iPad is the right choice for you, then the next step is to get a network provider that offers an iPad data plan that's going to suit your needs. Truphone, for example, offers a reliable iPad cellular data plan with coverage in 188 countries. So, if you are planning to travel a lot with your iPad, Truphone's iPad data plan might be the right choice for you.