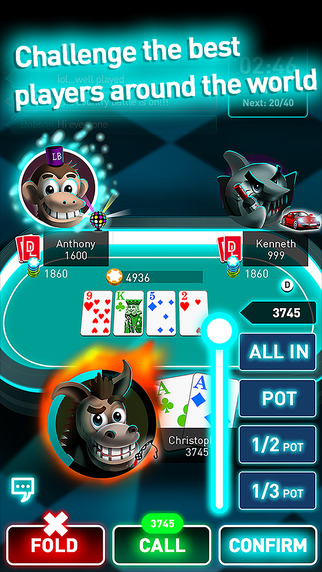 Published by P.T. Farm Co, Donkey League Poker is an innovative and quick-fire Texas Hold'em Poker game for iOS.
Unlike other poker apps where everyone has a generic or user-chosen avatar, Donkey League Poker has a special "DL rating system" which gives you an avatar based on skill. The ranks start at "Reckless Donkey" and you work up to "Bully Shark" at the top-end of the food chain.
When you first start Donkey Poker League you're invited to set your player name and then you're free to jump right in to your first game. You start out with 30,000 in chips and there are also daily bonuses available to boost your balance. There are 3 buy-in levels for the Ultrasonic SNG which has 3 players, 1000 stack and 2 minute blind levels – 5k, 50k and 1M. And, should you find yourself short-stacked you can of course purchase extra chips for real money.
With only 3 players per table, games are fast and the action is plentiful. An easy-to-use bet slider allows you to bet 1/3 pot, 1/2 pot, pot or push all-in. Fold, Call or Bet. All the options are laid out in a very simple fashion. A default 4-color deck also makes spotting flush-draws and other big hands that much easier. The only thing lacking that would be nice to see is some additional game variants and table sizes.
In Donkey League Poker you're up against players from all around the world, with an in-app leaderboard showing you where you sit in the standings.
Donkey League Poker is undoubtedly a great iOS poker app. If you're a fan of Texas Hold'em and looking for a mobile option, this one comes highly recommended and is available now for free in the App Store.
Donkey League Poker requires iOS 8.0 or later. Compatible with iPhone, iPad, and iPod touch.