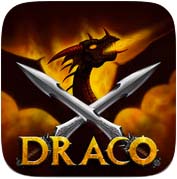 P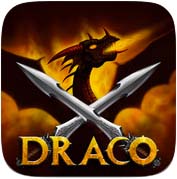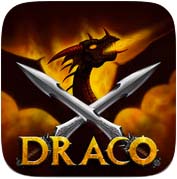 rice: $0.99    Score: 6/10    Category: Games
Developed by Vapssky Technologies, Draco The Dragon: The Fire-Breathing Quest is a dragon-themed vertical scrolling shooter for iPhone.
Draco The Dragon is set in a fantasy world where you command one of 3 dragons in a battle against the minions of an evil sorceress hell-bent on world domination. The game features 12 different missions, each with their own unique landscapes from snow-capped mountains to tropical jungles as well as gargoyle-like enemies and flying obstacles.
On paper, Draco the Dragon should offer a lot of variability but the missions do tend to feel the same after a while. The enemies change, but the attacks are quite similar and there are variations in the 'look' of the game, however the actual gameplay remains essentially unchanged.
The controls in Draco the Dragon are intuitive and accelerometer-based. Simply tilt from side to side to move left and right, or tilt back and forth to move forward and backward. You tap the screen to fire your weapon. When the feature is enabled after 5 kills, you can also blow on your iPhone's mike to 'blow' fire.
Throughout the missions there are power-ups that give your dragon special attacks that increase the number and power of your fireballs. The power-ups are limited to three different types however, don't stack, and unfortunately don't receive upgrades as you advance further into the game.
Draco The Dragon is Game Center and OpenFeint enabled, with 40+ achievements and leaderboards for high-score bragging rights.
Bottom Line: Solid fundamentals and visuals, but Draco the Dragon needs more variability to keep gamers coming back for more.
Draco The Dragon: The Fire-Breathing Quest! is compatible with iPhone, iPod touch, and iPad. Requires iOS 4.0 or later.