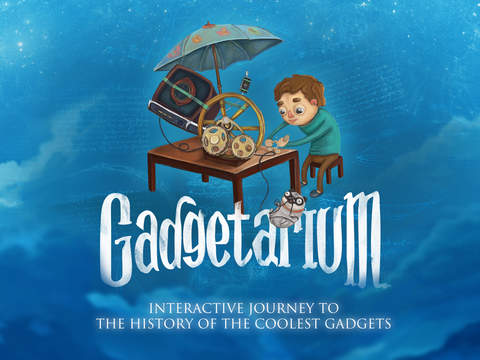 [app url="https://itunes.apple.com/us/app/gadgetarium/id949846093?mt=8″]
Gadgetarium is the newest app released by Gutenbergz Inc for the iPad. Supposed to be an interactive journey through some of the worlds greatest inventions, I did find myself very interested to check it out.
If there is something that we deal with in the app market it must be repetition. Sometimes it seems like everything has been done before a thousand times and that's why it feels great when you stumble upon something innovative that's never been done before. When checking out Gadgetarium it didn't take long to find out that this is that innovation that I like.
Gadgetarium, a journey through the worlds most wondrous inventions
Gadgetarium emits this wondrous and mysterious atmosphere, an atmosphere of curiosity and human celebration. Whether its the beautifully composed piano parts playing on the background or the workshop-like look of the app , right at the beginning I knew I was in for something great.
Please Install JNews Themes To use JNews Gallery Shortcode Feature
The Gadgetarium timeline unravels at the wheel, one of the oldest inventions to mankind. A beautifully designed, almost comic-like wheel popped up on my screen and I found myself rotating it around quite a few times just to see how smoothly it was designed.
Interaction and innovation
I tapped a button on the left and got a compact yet interesting overview of the wheel in audio and how it was invented. I tapped another button and a lot more information about the wheel popped up and all its information was suddenly at my disposal. It doesn't end here as there's even the possibility to view every invention as a 3D model, being able to turn it around in 360 view in high definition.
Please Install JNews Themes To use JNews Gallery Shortcode Feature
The next hour went by quick as I browsed through some of the worlds most wondrous inventions. From the radio to polaroid cameras and from the swiss knife to google glasses. It was really fun experimenting with every invention, for example I was balancing fruits on a scale and even worked the knitting machine in my historical adventure!
Verdict
Gadgetarium really is a great experience, but at points it seems to try too hard to stay receptive to the younger audience. The app promotes itself with having the feature that you can create your own inventions that actually work but in reality its just stacking the already existing inventions on top of each other and positioning them in a workshop kind of environment. I also find it hard to believe that with the attention span of children they will stay interested in all the information provided on every invention.
These small downsides however don't take away from the amazing and educative experience that is Gadgetarium and the colorful interactions with every invention will keep every player interested at least for some time. If you're looking for something new for your kids or even for yourself, Gadgetarium might just be what you want.
Gadgetarium is available on iOSand requires iOS 7.0 or later and is compatible with iPad.