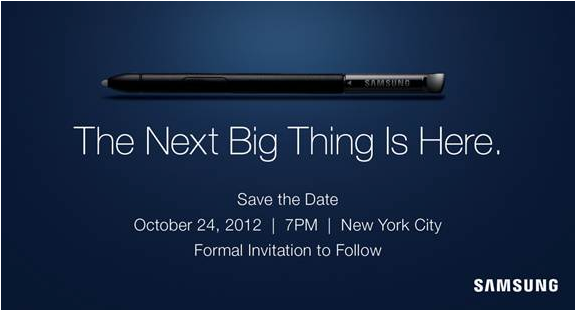 The big-screen Samsung Galaxy Note 2 is the successor to the successful Galaxy Note, the first crossover device to truly define the "phablet" (phone/tablet) class. While Samsung have already pulled back the curtain on the Galaxy Note 2 at a press event in Berlin several weeks ago, the Galaxy Note 2 release date in the US has remained unclear. The launch date appears to be on the horizon however, with press invites going out to a Samsung event in New York on October 24th.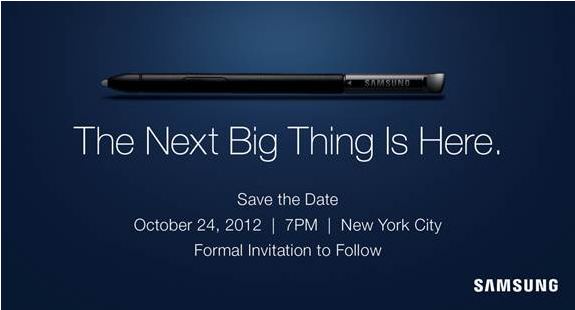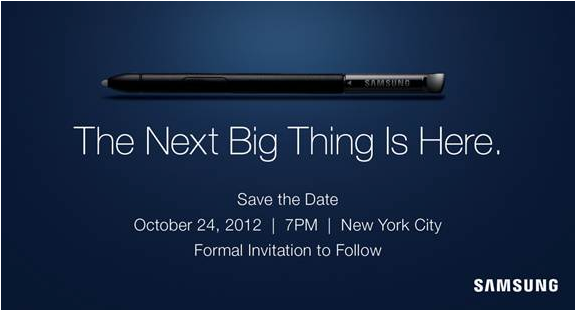 The invites simply declare that "The Next Big Thing is Here" and show an image of a stylus – assumedly belonging to the Galaxy Note 2. It is not impossible that the event is actually for the Galaxy Tab, however it is unlikely, with an October Galaxy Note 2 release date hinted in various rumors and reports over the past several months.
Design-wise, the Galaxy Note 2 is essentially a big Galaxy S3 – but it carries beefed up tablet-like tech specs. The Galaxy Note 2 features a 5.5-inch screen with super AMOLED display, 8-MP camera, quad-core 1.6 GHz processor, 4G LTE connectivity and runs Android 4.1 Jelly Bean out of the box. By mid-November, five US carriers are expected to sell the Galaxy Note 2 at a price-point of $299.99 including AT&T, Verizon and T-Mobile.
We'll be following the Galaxy Note 2 release date event and will bring you more details as they come to hand.