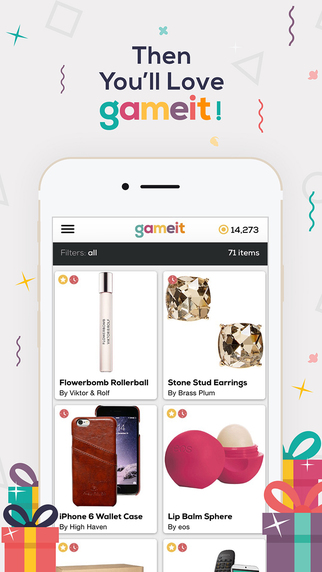 [app url="https://itunes.apple.com/us/app/gameit-win-discounts-through/id899177853?mt=8″]
Introduction
While there are a lot of trivia apps around, there are few that are as rewarding and as fun as Game It. Designed for the customer and completely free of charge, it offers people around the world discounts or even fully funded products if you play the game right. I was certainly happy to be able to feature it on Tapscape, so let's dive into the review and see what this app can do for you.
Game It—how does it work
After a swift and free install it takes only a few seconds to start playing Game It. You can browse the categories or filter the search to specifically get in touch with products you like and after that it's as simple as starting the trivia match.
The trivia often comes in the form of a commercial about the designated product, having you answer questions about the product and commercial afterwards. I tried browsing the tech section and am currently playing for a beautiful laptop, but there are a lot of other products available.
The fun thing about Game It is that you can always get discounts based on how well you score in the trivia match. Every product has a set time for players to participate and if you have the highest score at the end you will win the product free of charge. Otherwise, you can still order it with the discounts you earned.
Game It—stealing scores
One of the great featurse about Game It is that you can actually steal scores from other people. Let's say you didn't do so well but the product timer still has a few hours left. You can then go and steal scores from others by answering other questions, making Game It more like an auction than a game. This gives everyone the chance to win the desired product and no hard feelings will be left with the consumer.
Tapscape's final thoughts on Game It
Game It is an incredibly generous app and it is lots of fun to play for real products and discounts. Even though the chances to really win something are slim, you can always get a really nice discount on things you want to have making it a worthwhile experience always. I suggest you check out the app yourself and see if Game It has any nice things in store for you!
Game It requires iOS 7.0 and is compatible with iPhone and iPad