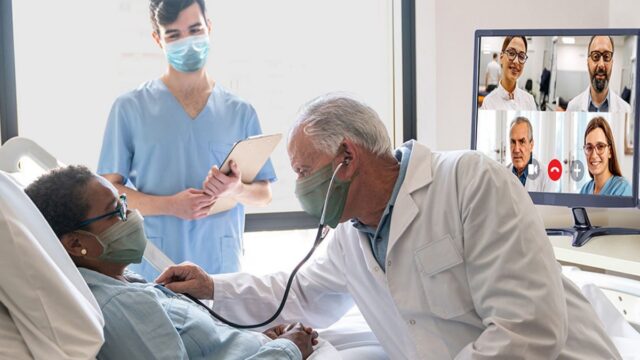 When the COVID-19 pandemic hit, the health system came under stresses it had not experienced outside of wartime.
One recurring theme that popped up in multiple industries was not only how to do more with less but also how to scale your productivity using the power of the Internet.
This is where telemedicine, and its recent renaissance, come into play.
Though far from a new field by any stretch of the imagination, telemedicine was always hampered by regulatory inertia and a general lack of willingness on the part of traditional medicine to embrace this concept.
Now we don't have that luxury.
As the pandemic has shown us, the demand for health services does not stop during a crisis, and solutions are needed to help shoulder the burden of patient diagnosis, treatment, and care.
For advanced practice clinicians such as nurse practitioners or physician's assistants, there's never going to be a better time to start your own practice and the mentors at Collaborating Docs have the resources to help you get started.
There are three main ways that Collaborating Docs does this: Collaboration, consultation, and education.
For the first, collaboration, Collaborating Docs links you up with physicians that are in need of your services.
But Collaborating Docs isn't just a database of names. They actually take the time to match your specific skills with those of the collaborating physician so that you both have a viable partnership.
Finding a collaborating physician is one thing, but finding one that meets an APC's specific needs is another step entirely and one that Collaborating Docs makes as easy and seamless as possible.
The second service, consulting, matches up APCs with collaborating physicians for a mentor-level relationship wherein the latter helps the former establish their own telemedicine practice.
Gain the insights and expert knowledge of someone who has been in the field for years and avoid the hiccups that come with starting something new when you collaborate with a consulting physician on how to most efficiently pursue your own practice.
After all, physicians will be your primary working cohort in many cases thus getting their unique insights into what they need from APCs could prove invaluable to getting everything off of the ground.
Finally, the last and certainly not least among the ways Collaborating Docs helps APCs get their telemedicine practice started is the education section of the website.
Anchored by a masterclass that teaches you how to start your own telemedicine practice, this comprehensive guide promises to give you everything you need to get your practice operational in one month's time.
Of course, for those people who want a more hands-on approach, Board-Certified Family Medicine Physician Dr. Annie DePasquale offers one-on-one consultations to guide APCs through the rigors of starting their own telemedicine practice. Offering a wealth of resources for every level of inquiry, Collaborating Docs is a true one-stop-shop and should be your first destination on the road to an independent telemedicine practice.