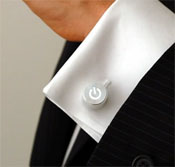 httpv://youtu.be/IG5XrpKqQ7k
Taking geek-chic to a whole new level, iCufflinks from Adafruit Industries are the must-have gift this Father's Day for the Mac-obsessed Dad.
Built from CNC-machined 6 series aluminium for the ultimate in durability and elegance, each iCufflink has a built-in circuit board with a pulsating LED and battery. The pulsating light is reverse engineered from the "breathing" LED on all newer generation Apple Macs, and softly lights up the Apple power symbol.
Potentially the coolest geek gift anyone could ever give a Mac fan, the new iCufflinks are currently sold-out due to initial demand, but further stock will soon be available at $128.