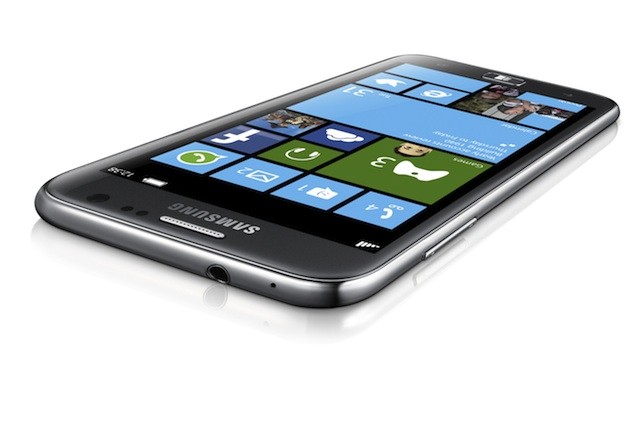 Samsung took to the IFA by storm when it announced the ATIV S, the world's first Windows Phone 8 smartphone. With its massive 4.8-inch HD Super AMOLED display and 8 megapixel camera, this handset will no doubt capture some attention.
Samsung wasted no time in Berlin to talk about the company's first Windows Phone 8 smartphone . The company took the wraps off its long awaited and rumored Windows Phone 8 based smartphone, a device that goes by the name ATIV S, and by Odin's grey beard, this Windows Phone 8 handset looks a lot like the iPhone. Despite the deep resemblance with the iPhone, the ATIV S is one powerful handset with a screen size fit for a king, a king with large hands.
The Samsung ATIV S specs is the first sign of a possible Windows Phone 8 takeover this year. The device is rocking a massive 4.8-inch HD Super AMOLED display, 1.5GHz dual core CPU, 8MP camera at the back, and 1.9 megapixel at the front for those rare times when you make a video call. Furthermore, this bad boy is packing 1GB worth of RAM, something never before seen in a Windows Phone based smartphone.
Going down the line, the Samsung ATIV S has a 2,300mAh battery at the back, Corin Gorilla Glass 2, a microSD card slot, another first for a Windows Phone smartphone device. This device will come in two flavors, one with 16GB of internal memory, while the other is rocking 32GB.
Samsung hasn't yet announced the price and release date for its Windows Phone 8 handset, however, it might not hit the United States with its current design. The phone in its current state looks a lot like the iPhone, Samsung might find itself in more problems with Apple if the design doesn't change for a US launch later in the year.
Apple had a big victory over Samsung in the US not too long ago, the victory placed Samsung in a sticky situation where the company was asked to pay Apple over $1.49 billion in damages for infringing on its patents.