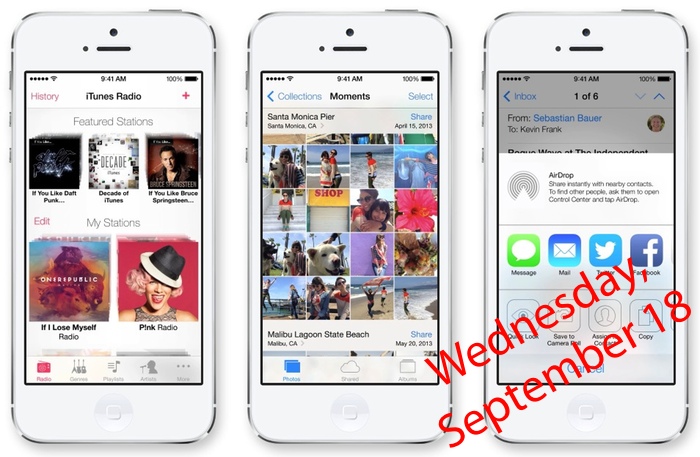 Although a range of dates were floated ahead of today's Apple Event in Cupertino, Tim Cook, Craig Federighi and Phil Schiller have confirmed that iOS 7 ship date hits two days ahead of the new iPhone 5S and iPhone 5C. That said, Apple has said it will be killing off the iPhone 4 and iPhone 5 — legacy smartphones are being replaced by the iPhone 5C.
However, the iPhone 4S continues as Apple's "free" on contract, entry-level model.
Yes, boys and girls the iPhone 5C and iPhone 5S will ship on Friday, September 20 and iOS 7 will be pushed to existing iPhone and iPod touch owners on Wednesday, September 18. Additionally, Cook's crew also announced that the iOS versions of the iWork apps are now free for people buying a new device — everyone else still pays $4.99 each for these apps.

See also: Apple Introduces iPhone 5c—The Most Colorful iPhone Yet
The 4-inch iPhone 5C will be priced at $99 (16GB) and $199 (32GB) with contract, which is somewhat disappointing. Apple hasn't said how much the iPhone 5C costs off-contract, though it seems reasonable to expect $500-plus.
Again, the iPhone 5S and iPhone 5C ship on September 20 and iOS 7 ships two days ahead that — the rest of us get first taste before new device buyers. There will be no pre-orders for the iPhone 5S, get it in-store on the 20th.
However, the iPhone 5C can be pre-ordered on the 13th.
Watching the Apple Event live streams? What's caught your eye? Ready to buy?
Source: Ars Technica and other sources