Steve Jobs and, later, Tim Cook are famous for saying is about cannibalizing its own products, which is a great strategy — fundamentally, you can either eat your own or wait around for someone else to do it for you. That said, who's winning the iPad mini vs iPad battle royal? Sales of Apple's Fall 2012 7.9-inch iPad mini are rapidly overtaking, nay, blowing away traditional 9.7-inch iPad sales.
As is oft the case with Apple, we don't have direct evidence of the phenomenon at hand. However, the evidence seems convincing.
NPD DisplaySearch is reporting that smaller tablet display demand is growing rapidly while larger, like 9.7-inch large, panel demand is shriveling.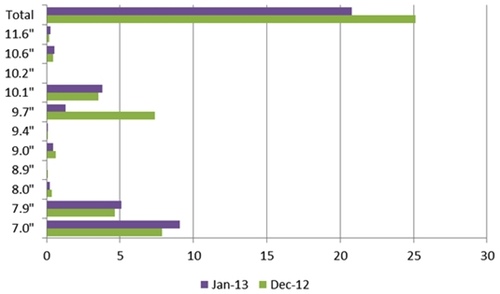 The launch of the iPad mini in late 2012 has been seen as an acknowledgement by Apple that smaller size (7-9") tablet PCs would become a larger part of the market than larger sizes (9.7" or 10.1"). Key aspects are more attractive prices and the ability to hold the device in one hand rather than two. Data published in the latest Monthly TFT LCD Shipment Database indicate that in the first month of 2013, tablet PC panel shipments shifted dramatically toward smaller screen sizes.
Although Apple is thought to make a lot less per iPad mini sold, one imagines the company is nonetheless happy that customers are buying Apple branded mini tablets instead of someone's else small slab.
However, the one base Apple doesn't have covered is the 5 to 7 inch phone-tablet (a.k.a. phablet) market, easily the hottest mobile segment right now. Perhaps an Apple phablet is inevitable after all.
Regardless of how that turns out, in the iPad mini vs iPad battle, Apple is clearly winning…
What's your take?
via MacRumors