Apple stores are busy trying to offload iPhone 4 and iPhone 4S units to make way for the iPhone 5 which is expected to debut in a few weeks. They're selling the current-gen iPhones at crazy-low prices that may just make some people forget that a new iPhone is coming out shortly. But what about people who don't want an iOS device? Does the fast-approaching iPhone 5 release date have any benefits for them?
The answer is yes.
It looks like Apple's competition may be a little worried as well that the upcoming iPhone 5 release date will be hogging all the attention and we're seeing all sorts of awesome deals for other cool phones in the market. And one of the best deals we've seen is for Motorola's Droid Razr.
This sexy Android phone comes with a 4.3 inch screen and is already LTE-enabled, features that make it comparable to the upcoming iPhone 5. What's even better is that it's going to cost way less than Apple's next-gen device. How much less? What if we told you that you can buy it for just a penny?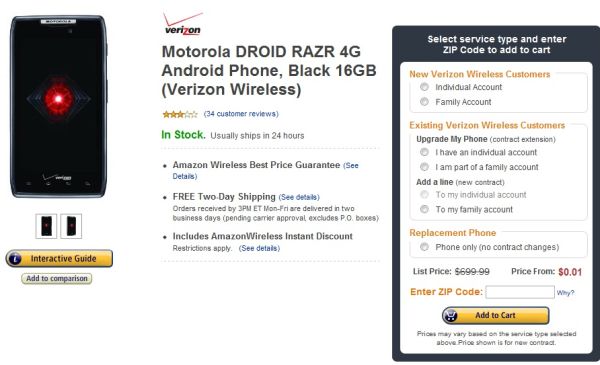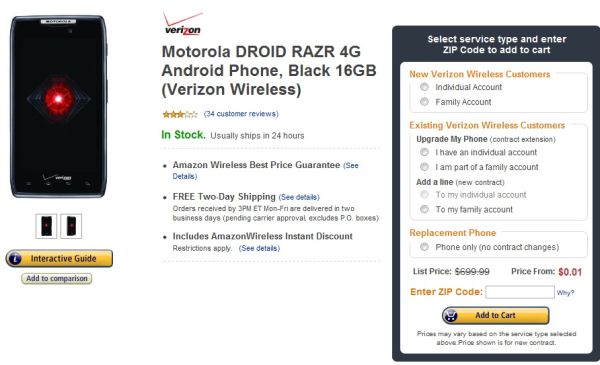 That's right, $0.01 can make you the proud owner of a Motorola Droid Razr over at Amazon Wireless. In fact, for some people, the shipping charges may cost more than the actual unit itself.
The Motorola Droid Razr still packs a pretty heavy punch — aside from the LTE features and the 4.3 inch screen, it's got a decent 1.2 GHZ processor with 1 GB of RAM. The 960×540 Super AMOLED display is nothing to scoff at either. And for those who enjoy taking pictures of their lunches and posting it on Instagram, you can't go wrong with its 8 MP rear-facing shooter.
While the iPhone 5 release date may just be around the corner, the Motorola Droid Razr at this unbeatable price may be a better option for people on a budget. Its got decent specs and a sleek design that make this a good choice for people who are looking for a new handheld but don't necessarily have to have the latest piece of technology out there.