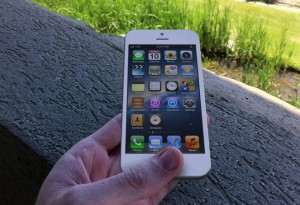 The road to iPhone 5 has been a long and winding trek. We've gone from photo leaks to examining production lines and have gone through countless iPhone 5 rumors. And as we slowly end that journey with the release next week, it may serve well to reflect on everything that has happened since the 4S. Here are all the iPhone 5 rumors, from the more reasonable to the ridiculous.
Thinner
Plenty of iPhone 5 rumors, such as smaller dock connectors or other parts pointed to the device being thinner than previous generations. This is probably the most reasonable rumor you could throw out there. Whether it be the Macbook, iPad, or iPhone, Apple has had a streak of making their devices thinner and sleeker than previous generations. And it will likely keep this streak with a thinner, however slight, iPhone.
Bigger Screen
In addition to being thinner, plenty of rumors and pictures pointed towards more real estate for the screen. The rumored 4" screen has plenty of merit. A larger screen will allow more space for internal components and it allows the iPhone to compete with larger screened Android phones that have surpassed it in sales.
4G LTE
While this seems incredibly reasonable given how many phones are adapting the technology, recent events may cause Apple to rethink adding the technology. Adding LTE technology to the iPhone 5 could possibly lead to a lawsuit from Samsung following the recent patent victory. On the other hand Apple is going to need it in order to stay competitive.
NFC
NFC technology looks to be the future at this point. The main problem is that it just hasn't gotten main stream enough and to the public eye seems more like a gimmick than the future. Apple can change this given the popularity of the iPhone, but it will require more than just including the feature. They will need to make it useful work to make it a 'must have' feature. Some iPhone 5 rumors have pointed towards the feature being included and others have said otherwise.
De-Googling iOS
This is where things start to get at the margin of reasonable and ridiculous. Rumors surfaced that Apple will be making Bing the default search engine in iOS as well as getting rid of the native Youtube app. This is reasonable for Apple because they want to separate their brand from Google, who is a direct competitor. On the consumer side of things it can be viewed as ridiculous. They can still use Google and Youtube. This update would only inconvenience them in doing so.
Fingerprint Unlock
Unlike the previous iPhone 5 rumors, this is more on the ridiculous end. It is based off of Apple's acquisition of a firm dealing in security and fingerprint technology. While many see this as bringing fingerprint unlock to the iPhone 5, it isn't very likely. Everyone is used to currently locking methods on their phones and Apple probably wouldn't want to risk a mixed reaction to a new unlocking method. Also given how recent the acquisition was I'd be surprised if Apple has had the time to implement the technology.
Other Keyboards
There were two distinct iPhone 5 rumors regarding a change to the keyboard. One was that the device would have a slide out keyboard. I don't know how this came about but that defeats the entire purpose of the touch screen keyboard and would just be redundant, not to mention the added thickness. The other rumor pointed to a laser keyboard which very cool but also highly unlikely. A feature like that would've been leaked by now and nothing points to Apple developing that technology.
Holographic Display
Yes, this would be absolutely amazing. No, it is simply not happening.
Any rumors you think should be added to this list? Sound them off in the comments.