The Galaxy S6, which is expected to arrive on or before April 10, has gotten good reviews. However, while Samsung's Exynos 7 chip bests Apple's A8 SoC, on paper, its real world performance might not be so good.
Given how badly the Galaxy S5 performed in the market, and rightly so, Samsung really needed to up its game this time around. Like Apple, they've come out with two models, Galaxy S6 and Galaxy S6 Edge (curved display edges) though only one size. On paper, at least, the Exynos 7 inside the Samsung phones offer performance that easily bests the iPhone 6.
Smart people are saying with conviction that Samsung is back because the Galaxy 6 is the right smartphone for the market.
With that background, AppleInsider set out to benchmark the Galaxy S6 and iPhone 6 using the GFXBench and see if those on-paper Exynos 7 performance stats actually hold water.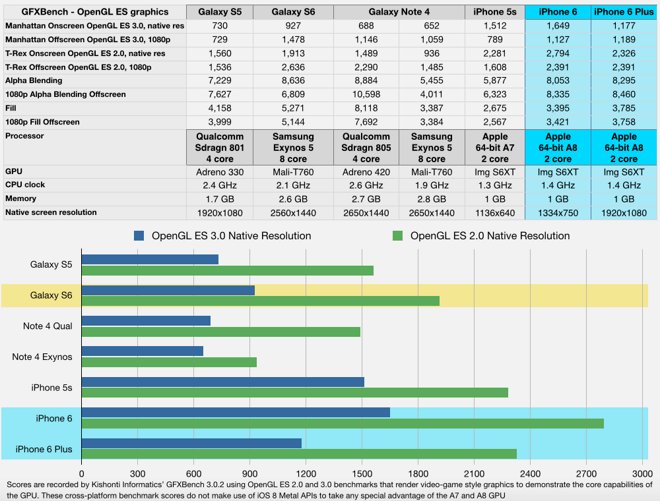 "In an apparent effort to win the 'spec war,' Samsung began aggressively cranking up device resolutions on its most expensive premium flagships after Steve Jobs demonstrated iPhone 4's Retina Display back in 2010," writes AppleInsider's Daniel Eran Dilger. "The first benchmarks showing off the actual performance users will get from the new Galaxy S6 highlight that Samsung appears to still be making poor engineering choices…"
The iPhone 6 is an HD device (ie 750p) whereas the Galaxy S6 sports a QHD (2560 x 1440) display. Naturally, Samsung's Exynos 7 needs to work really hard to keep the display filled and refreshed, so it's not surprising that gaming performance would suffer.
That said, no one says the iPhone 6 display is unclear let alone crappy. So, you've got to wonder why Samsung sacrificed so much performance just for a super duper extra crispy display?
In the past, Apple has been criticized for sacrificing useable battery life in order to make devices thinner. Here we have Samsung sacrificing gaming performance in order to boost display resolution really high.
Seems kind of dumb to me…
What's your take?
Via: Forbes