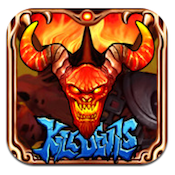 Price: Free Score: 8/10 Category: Games
If you love action-packed tower defense iPhone games that make you tap the screen like crazy, then you'll loveKill Devils, developed by Sun Ground Co. Ltd.Your job: protect your castle from hordes of rampaging, monstrous creatures.
I play-tested Kill Devils on an iPhone 4S, where it ran smoothly without any bugs, glitches, or crashes. Set in the six mythical kingdoms of Ashan, players take control of a different magic tower in each region and need to defend the location with elemental spells and guns.
Kill Devils is a super fun iPhone game to play, with bright and colorful graphics and a whole host of unique, beautiful weapons. With a massive world and outstanding array of unlockable achievements, there's a lot to explore here.
It's worth noting that in terms of visual style and basic gameplay, Kill Devils is pretty similar to a lot of other defense titles out there. Looking at screens from games like Zombie Battle and Hero of Magic II, it's pretty easy to see the resemblance in basic game design and even weapons effects.
The developers say that they've the taken defense action genre to "a whole new level of epic gaming goodness," but when the game plays so much like other titles in the same family of games, it's hard to see the newness in it. But go past the surface, and there is something pretty cool: part of your quest in Kill Devils involves destroying the two mysterious dragons before they destroy you. When you encounter them, they'll do it when your at your weakest – at the very end of each stage.
If you want something fresh after playing those other, similar titles, then Kill Devils probably isn't the game for you. But if you have played those other games and are jonesing for more of the same, then Kill Devils is totally worth playing, especially since it's free (and has 60 stages to master!) on both iPhone and Android.
Kill Devilsis compatible with iPhone 3GS, iPhone 4, iPhone 4S, iPod touch (2nd generation), iPod touch (3rd generation), iPod touch (4th generation) and iPad. Requires iOS 4.3 or later.
Kill Devils is also available for Android on Google Play. Requires Android 2.1 and up. A small expedite fee was paid by the developer to speed up the publication of this iPhone game review.