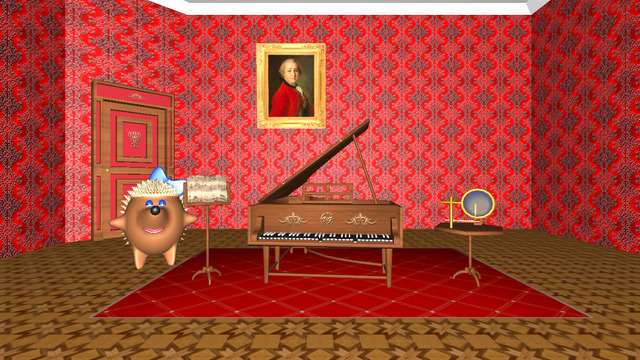 [app url="https://itunes.apple.com/en/app/klavier/id962389896?l=en&mt=8″]
Introduction
Hello once again Tapscape readers, I'm back with another review for you guys today! This time we'll be reviewing Klavier by Vectro Group. In this app you'll be exploring the ins and outs of the so called harpsichord, a baroque-themed string instrument used in many compositions from that time.
From the screenshots the app looked promising, with two hedgehogs leading you around the instruments and showing you an in-depth guide to how they are structured and played.
Klavier
As a musician myself I was very interested in this app, which is a good thing because if the app fails to keep me enticed and interested than people who are not very much into music will find nothing worthwhile here to play.
Please Install JNews Themes To use JNews Gallery Shortcode Feature
So when I started up the app I came into a very nicely decorated room, with a hedgehog coming at me and comically tilting its nose. I thought this would be kind of a beginning of a tour, but after watching the hedgehog dance around for half a minute I figured I just had to start tapping on something to get me started.
I started out with pressing the harpsichord on the left, which was the only option since the other two instruments (clavichord and piano) were still unlocked and are purchasable at a fee. I got warped to another room with the instrument, being able to play on the instrument and even use different musical options to explore scales and pitch.
Please Install JNews Themes To use JNews Gallery Shortcode Feature
You can hook up an external midi device to play them, which is a very nice option since there just isn't too much to do besides this. You can listen to famous compositions that are made on the instrument and check out a 3D model of the mechanics surrounding the instrument, but other than that the information you will get is a link to Wikipedia, greatly reducing the worth of purchasing extra instruments as you can just look up the information yourself online.
Our conclusion
Klavier is a little weird and sometimes it's hard to get to the good stuff, but in the end there's plenty to do for musician fanatics. I liked listening to famous compositions made for the instruments and then browsing through the Wikipedia page of these composers after listening.
However, it does come across a bit unprofessional as I'd like to see a more tour oriented approach from the hedgehogs. If you're into this kind of stuff you will have some fun with Klavier, but I just don't think this app will keep a lot of people interested longer than half an hour.
Klavier requires iOS 8.1 and is compatible with iPad and iPhone