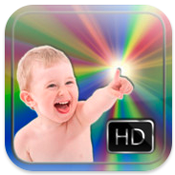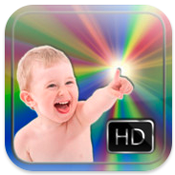 Music Color iPhone App Review
Price: $2.99 Score: 9/10

There are so many toys on the market for children, many of the educational, but for many children, there is nothing half as exciting as what mommy or daddy is playing with.SoundTouchhas developed an app called Music Color for the market that is educational, and gives little fingers a turn at the iPhone or iPad.
Music Color is simple and intuitive, making it perfect for children or people trying to acquire a foreign language. There are dozens of languages supported in the settings menu, and more are scheduled to be added.
Essentially, Music Color is a matching game. It opens with a palate of colors and the player taps one. In my example, my one-year-old daughter chose green:
She was immediately excited by the instrumental music; Music Color offers 37 full-length classical songs. As the music played, we examined the pictures. I pointed out each of them and called them by name, using the opportunity to further build her vocabulary. When we were ready for a test, I had her tap the question mark.
Again, I told her what each of the items were and asked her to pick which one was green. She pointed to the background of the page, then tapped on the truck. A crowd burst into congratulatory applause as she correctly identified the image, and it showed her a picture of an actual truck. She clapped too and excitedly pressed the arrow looking for more.
Now, at one year old, she doesn't have the attention span to play at it for long and was soon tapping random colors just to hear the music. Where this application will truly shine is with children who are pre-school or kindergardeners, or anyone trying to develop language skills. Classroom educators who teach English as a second or foreign language could use this simple application to coach their students in the new language.
Overall, the application is very simple, but it is a good way for young people to get a turn working with technology in a fun, positive and encouraging environment. My toddler gives this one a toothy grin and an enthusiastic round of applause.
Music Color is available in iTunes (iTunes link) for the iPhone and iPad. A small expedite fee was paid by the develop to speed up the publication of this review.