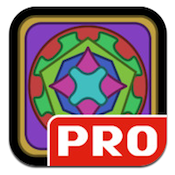 Price: $0.99 Score: 9/10 Category: Games
MahJah Pro is an iPhone game developed byDmitriy Prikhodko. This pro version differs from the lite version in a couple of main ways. The pro version features an additional game mode, three new levels, plus achievements. Additionally, it runs ad-free, which makes for a more attractive gaming experience over the Lite version.
Think MahJah Pro as a blend between matching games like dominoes and Mahjong, plus a bit of 3D puzzle solving a la the Rubik's Cube. The faster you tap to match like-colored blocks, the higher your score will be. You get 1000 points for each match, plus a time-based bonus as a reward for having nimble fingers and nimble brains.
Controls are very simple, ensuring you stay focused on the game instead of how to manipulate the cube. Tap on a cube to select it, swipe the screen with a single finger to rotate the camera angle, or use a pinch or spread with your fingetips to zoom in and out.
At the beginning of each round, you will see he giant cube getting built up, layer by layer. Pay attention, because you might just be able to craft a strategy based on how the blocks are lined up. You'll have about 9 minutes to match all of the blocks in the cube, and you have to match based on both color, number of dots, and style of dots.
If you love puzzles or matching games, MahJah Pro is definitely worth checking out. It's pretty cheap, has great graphics and sounds effects, and some truly addictive gameplay. It's worth the upgrade to the Pro version for the aesthetics alone.
MahJah Prois compatible with iPhone 3GS, iPhone 4, iPhone 4S, iPhone 5, iPod touch (3rd generation), iPod touch (4th generation), iPod touch (5th generation) and iPad. Requires iOS 4.3 or later. This app is optimized for iPhone 5.