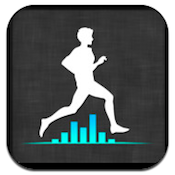 Price: $0.99 Score: 8.5/10 Category: Health & Fitness
I've never been much of a runner. A bad case of bronchitis when I was a kid left me with lungs that burned after sprinting. But this summer, after ditching my expensive gym membership, I took up running and found that I really loved it. I've used several different iPhone apps on my runs this summer, and I'm very impressed withMarx Runner(official site here.)
As any runner knows, finding the right soundtrack is key. You want songs with a steady beat, something that kicks your heart into high gear and makes you feel like you're running in your very own action film. The ability to make custom running soundtracks on the go with Marx Runner is really impressive.
The controls in this iPhone app are minimal, clearly marked, and easy to tweak while you're running or standing still. With a few taps of your finger, you can change the tempo of the music, remove vocal or drums from the track, or just hit the shuffle button for a randomized musical arrangement.
The slider makes it really easy to adjust the BPM of the track: you can easily switch from a full-on running track to a speed that's pretty for your cool down. The songs do keep a bit repetitive, so if you're a runner who craves variety, you might want to use Marx Runner on shorter jaunts.
One downside: Marx Runner isn't ideally suited to treadmill runners. You have to be in motion in-order for the Marx Runner iPhone app to operate properly while running, as the developers hoped to encourage outdoor running.
But the downside is balanced against a very cool upside: the developers have announced that a future update will allow runners to record their custom-made songs and then share them on social sites.
Whether you're a runner looking for a new iPhone app to keep things fresh or a music nerd looking for a way to get excited about running, Marx Runner is really fun to play around with.
Marx Runneris compatible with iPhone 3GS, iPhone 4, iPhone 4S, iPhone 5, iPod touch (3rd generation), iPod touch (4th generation), iPod touch (5th generation) and iPad. Requires iOS 5.0 or later. This app is optimized for iPhone 5.A small expedite fee was paid by the developer to speed up the publication of this iPhone app review.