Price: $0.99    Score: 9/10    Category: Books
Mickey's Spooky Night Puzzle Book gives the little ones a taste of the Halloween festivities with an interactive storybook that feels one part book, one part cartoon, and one part game.
Starting kids with this app is as easy as wiping the melted Halloween chocolate off their fingers, directing them to click on the picture of Mickey's smiling face, and setting them loose. The rest is mostly self explanatory.
If you let the app run on its own it's set in a default "Read To Me" mode. The only thing your child needs to do is click the big arrows on the upper corners of the screen to turn the pages when the narration stops.
There are also four places to solve simple puzzles and the option to search for ghosts along the way but all of this is simple and easy to understand. The puzzle pieces practically snap into place so they're difficult to botch, and the worst that can happen for those who haven't found all six ghosts is that they're encouraged to read the story again.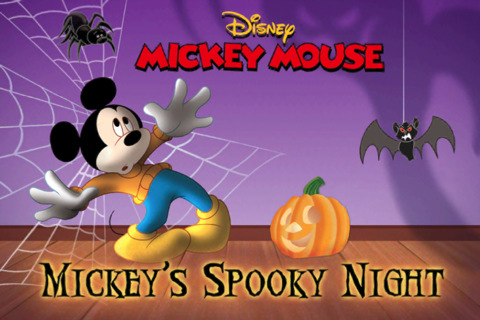 The story starts with Mickey preparing for Halloween and the plot doesn't go much deeper than that, but the effects and execution along the way are more than adorable. Kids will love the narrated story and the way Mickey's voice pipes in over the racket and sound effects in the background.
The whole story takes about five to ten minutes to get through, depending on how quickly you solve the four six piece puzzles, and even though the ghosts are simple for adults to find, kids might find this aspect of the book a little challenging.
Any missing ghosts combined with the short story length and engaging nature of what's there will probably make your child want to experience the app again. If you want to really beef up the experience you can click on the avatar of Mickey reading in the lower right hand corner and choose various options.
These options include the ability to silence the narrator, auto turn pages (which turns off the interactivity elements), and record your voice reading the story. After you've inputted your own recording you can use that in the story, which is actually a ton of fun.
Other features in the Mickey avatar include a scrubber that lets you access pages on demand, the ability to sign up for a mailing list, a banner with more Disney Book apps, and credits.
All said and done, this seems like a good way to keep kids entertained in short bursts while letting them venture into the spirit of Halloween without actually feeling like they have to worry about monsters in their closet.
Bottom Line: Mickey's Spooky Night Puzzle Book brings a few Disney favorites into an adorable interactive Halloween storybook. The story is short, but perfect for the little ones while it lasts.