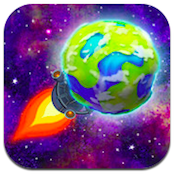 Price: Free Score: 9/10 Category: Games
Want a fantastic iPhone adventure game that's out of this world? Why not fly a rocket through a wonderfully rendered 3D environment withMin – A Space Adventure, developed by Cwerki Studios.
Featuring a style of gameplay that's utterly addicting, your goal in Min — A Space Adventure is simple: pilot your rocket (the Minimar) through all kinds of outer space, futuristic landscapes at maximum speed, without crashing into craggy outcroppings or tunnel walls.
But rocks and tunnels aren't all your need to navigate: you also need to watch out for living hazards like giant rock-worms, hugely terrifying tentacles, and all manner of toxic slime.
The graphics are outstanding, and it really does capture all the thrill and fun of piloting a futuristic ship through challenging landscapes. If you've ever watched "Star Wars" and wished you could have your turn at piloting a ship, Min — A Space Adventure is the closest you're gonna get without actually heading into orbit.
The controls are perfectly calibrated and outstandingly responsive. The Min control system is simple, so you can focus on just flying the best that you can possibly fly on each round. Make sure to collect as many Inspiration points as possible so you can upgrade your Min.
The latest version of Min – A Space Adventure (Version 1.21) for iPhone includes a number of exciting upgrades. There's a very cool 3-tiered mission system that really keeps the gameplay fresh time and time again. Tier 1 missions are the default, followed by Tier 2 missions which are unlocked at level 10 and Tier 3 missions which are unlocked at level 20: 142 missions in all.
Min – A Space Adventureis compatible with iPhone 3GS, iPhone 4, iPhone 4S, iPhone 5, iPod touch (3rd generation), iPod touch (4th generation), iPod touch (5th generation) and iPad. Requires iOS 4.0 or later.
Check out this Min promo event: Starting September 25 players can compete for the number 1 spot on the Drop n' Climb (level 2) and Serpent's Cove (level 4) leaderboards! On October 10 at 12:00PM CST, the top players will receive an iTunes giftcard. Official rules can be found here.