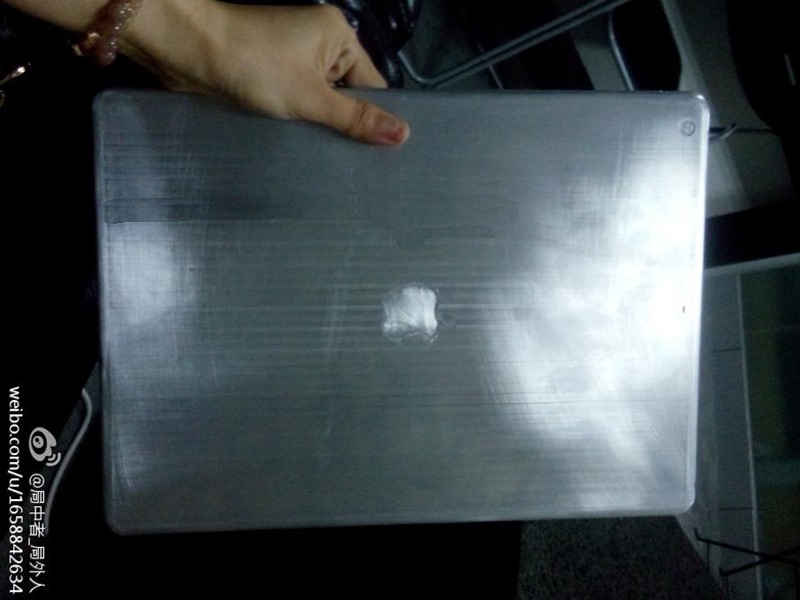 In heady early days and weeks of 2010 before the original Apple tablet launch, critics snarked that the iPad 'would just be a big iPod touch.' Well, duh and then some, but what a fabulous idea! This time around, however, as the world awaits the Fall 2014 arrival of the iPad Pro, the haters might have a point.
While there is still some disagreement whether it will run iOS 8 or a special version of OS X, rumors have consistently said the iPad will be huge, nearly 13 inches huge.
With that in mind, everyone's favorite frogs at nowhereelse.fr have had their fingers on the pulse of China's Weibo microblogging and unearthed yet another gem — the Aluminum back shell of the iPad Pro, shown above.
Held in one hand by the author of this photo, the gigantic tablet appears excessively if not ridiculously large . So much so that it is natural to call into question the reliability of the data on which this model was designed … However it should be noted that the presence of the Californian company logo as well as the digital camera and dorsal micro gives an authentic look to the object that remains suspect — nowhere else.fr
Holy cow does the hand holding that 12.9-inch iPad Pro monstrosity need a manicure or what? Good grief, in the name of all that is sacred, someone get her to a strip mall post haste (my girl Mai Ling can set her right)!
For what it's worth, the very same Weibo poster has published 4.7-inch iPhone 6 back shell pics in the past, as well.
iPad Pro: A Tablet Too Far?
It is widely rumored and/or believed that Apple will ship TouchID enabled versions of its current 7.9-inch iPad mini and 9.7-inch iPad Air. This rumor makes a huge amount of sense, especially given the large investments Cupertino has made in sapphire glass product.
The company is also thought to be working on a 12-inch Retina MacBook Air for release this year. This move also makes given the fact that Apple just updated its standard resolution MacBook Air product line and slashed prices by $100 across the board — a similar move preceded the introduction of the Retina MacBook Pro.
Now, with all of the above mobile goodness coming our way later this year, does Apple or anyone for that matter really need a 13-inch iPad Pro? My guess is no…
What's your take?
Via Redmond Pie