The Motorola X Phone, officially known now as the Moto X, has produced lots of hype and rumors, but has finally started to make its way to the Federal Communications Commission (FCC). So far, only the AT&T and Verizon versions have appeared at the FCC, but this is about to change. Google has made good on the rumor that the Motorola X phone would be a multi-carrier phone, and now, it's US Cellular's turn.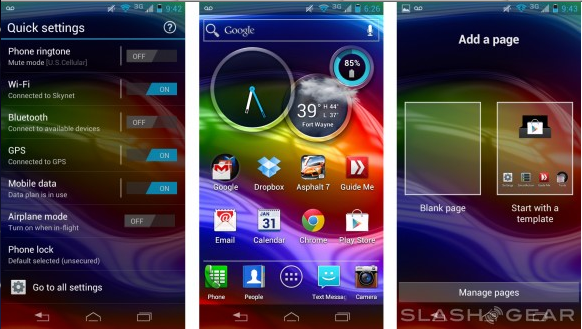 Motorola X Phone to Arrive At US Cellular Sometime Soon
Today's Motorola X FON version (XT1055) was filed as the US Cellular version of the Motorola X phone. Versions XT1060 (Verizon), XT1056 (Sprint), and XT1058 (AT&T) have already been spotted around the web in recent weeks. US Cellular's version will also have LTE band 12 support, so you can expect this to work on the regional carrier's 4G LTE network.
Motorola X Phone Specs (Updated)
As for specs, the Motorola X phone comes with a dual-core, 1.7Ghz, Snapdragon S4 Pro processor, 1280 x 720p screen resolution, 720p video recording, a 2MP front-facing camera and 10MP rear-facing camera, 16GB of internal memory storage, 2GB of random access memory (RAM), and will run Android 4.2.2. These specs alone make the device more of a mid-range than a high-end device.
Why the Motorola X Phone is a Mid-Range Device
For example, the Motorola X phone has a dual-core processor, but the high-end smartphones of 2013 have quad-core processor. While the Motorola X phone has 720p video recording, the best smartphones of 2013 have 1080p video recording (such as the Sony Xperia Z and Samsung GS4, among them). As for the screen resolution, the Motorola X phone has a screen resolution akin to Google's first Nexus 7 tablet. 1280 x 720 is still an excellent screen resolution for a smartphone — don't let the 1080p phones sway your purchase.
The 2MP front-facing camera is a 2013 feature, but the 10MP rear-facing camera is neither 2013 nor 2012: after all, high-end 2012 smartphones had 8MP rear-facing cameras, and high-end 2013 models have 13MPs instead of 8. The 10MP rear-facing camera, however, confirms the Motorola X phone's mid-range placement among the best smartphones available.
Other features such as the 2GB of RAM and Android 4.2.2 are characteristic of high-end, 2013 Android smartphones. Not even the HTC One has Android 4.2.2 yet, and this shows Google's control over Android upgrades. Google's Motorola and Nexus smartphone lines receive updates first, but Google is changing this with recent announcements of Galaxy S4 and HTC One Google Edition smartphones. Sony's Xperia Z will receive a Google Edition makeover sometime in the near future.
In short, the Motorola X phone is a mixture of 2012 and 2013 specs.
Motorola X Phone's Unique Feature: Contextual Awareness
The Motorola X phone will have contextual awareness and respond to human actions in advance. When you place your headphones in the headphone jack, for example, your music will start playing automatically. This is similar to Samsung's Contextual Page Buddy, part of Android 4.1.2 Premium Suite Upgrade.
US Cellular and non-US Cellular customers alike, are you excited about the Motorola X phone? What do you like and/or dislike about the Motorola X phone specs? Are you planning to buy the Motorola X phone? Share your thoughts in the comments.