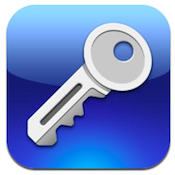 Price: $9.99 Score: 9/10 Category: Productivity
mSecure is an iPhone app developed by mSeven Software LLC. In addition to securely managing all of your passwords, you can also use mSecure to store all kinds of other personal info as well.
Used by almost a million people worldwide, mSecure has been lauded for its safety and security features. mSecure makes use of an ultra-secure 256bit blowfish encryption to protect your confidential information. This handy iPhone app also utilizes Sync Everywhere™ cloud data protection architecture.
The interface couldn't be simpler to use. Smartly designed, and easy to navigate, mSecure has a whole pile of templates for making your list of passwords simple to review. Unexpectedly (and helpfully!) there are over 250 icons that you can use to personalize your records, which is a nice touch to help keep things tidy.
Another thing I wasn't expecting: the level of customization that's possible in mSecure. You can change the font, color scheme, and size of the text: it's not really necessary, but it's a nice touch.
I think that one of my favorite features in mSecure is the Password Generator tool. If you're going to have a secure place to store passwords, you can stop worrying about making those passwords easy to remember and just focus on making them as secure as possible.
But the nicest thing about mSecure is the ability to have your info "self destruct." In the event of someone trying to access your passwords and entering the wrong passwords, you can set up mSecure to automatically purge your data. You can set this self destruct to go off after 5, 10, or 20 failed password entry attempts, or you can set it to never happen.
With solid security, a great design, and a great concept, mSecure is the one app you need to download today. mSecure is great, and not enough people are using it. Sync your data via wifi or Dropbox, and you're good to go. If you're serious about keeping your passwords safe, this is the app for you.
mSecureis compatible with iPhone, iPod touch, and iPad. Requires iOS 4.3 or later. This app is optimized for iPhone 5.
Note: Purchasing mSecure for your iOS device entitles you to a free copy of mBackup, a program for Mac and Windows that lets you make multiple backups of your mSecure data and restore it without having to do a full iTunes restore. To download your free copy of mBackup, please visit us at www.msevensoftware.com/mbackup.