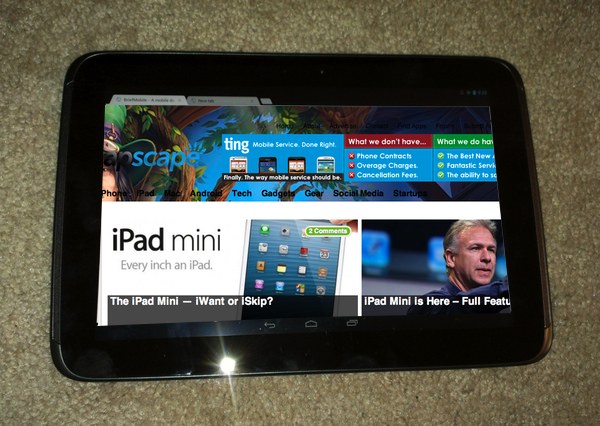 Speeds and feeds — when it comes to feature checklists, there are many Android tablets that are "better" than the iPad, yet they don't sell. Google's Nexus 10, expected to rollout on Monday, October 29, is manufactured by Samsung, a company that produces a dog's breakfast of Android tablets that don't sell well. Will the Nexus 10 specs give it a real edge over the iPad?
BriefMobile has seen the future, in this case, Monday, and published both Nexus 10 photos and expected specs:
Nexus 10 specs:
• Samsung Exynos 5250, clocked at 1.7 GHz, Dual-core Cortex-A15, Mali-T604 GPU
• Android OS 4.2 "Jellybean," the "Key Lime Pie" name has been deprecated
• 2GB RAM, 16GB internal storage
• 10.1-inch display, 2560 x 1600 pixels, 298.9 pixels-per-inch
• 5-megapixel rear-facing camera, LED flash, Front-facing camera
• NFC, WiFi, Bluetooth 4.0
• Dual speakers located on front of device
It almost seems ridiculous to even ask the question — is this an iPad killer? However, by many measures, the best and most competitive Android smartphones and tablets are Google's Nexus devices. That said, whereas the Nexus 7 tablet hasn't sold particularly well, it is perhaps the most competitive Android tablet on the market, having received good reviews from professional bloggers and mainstream press.
That said, the above Nexus 10 specs compare well with even Apple's just announced fourth generation iPad. In fact, the Nexus 10 has features, like NFC and LED flash, that the iPad doesn't — speeds and feeds.
However, the iPad offers a massive 275,000 library of apps designed specifically for Apple tablets. Additionally, Apple's iPad customer satisfaction scores best everyone because of the company's best-in-class software/hardware integration, build quality and industry-best service organization.
So, speeds and feeds? The Nexus whatever looks good. When it comes down to brass tacks — the device, ecosystem and support — the Nexus 10 is no iPad killer…
What's your take?
via TechCrunch