Once again, US President Barack Obama will be meeting with executives from tech companies in order to discuss privacy issues in the wake of NSA revelations.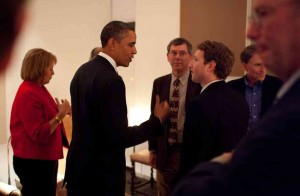 A White House Official said that the meeting with be centered around "issues of privacy, technology and intelligence," but a list of the companies and executives involved has not been released. Obama participated in a similar meeting in December, and today's meeting seems necessary given the many recent NSA revelations that made tech executives even angrier.
Earlier this month, Facebook CEO Mark Zuckerberg called the President after a document revealed that the NSA had pretended to be the social network in order to place malicious spy software on computers. Obama and Zuckerberg spoke, but very little came from the conversation, based upon later statements.
I've called President Obama to express my frustration over the damage the government is creating for all of our future. Unfortunately, it seems like it will take a very long time for true full reform. – Mark Zuckerberg
It has been confirmed by company sources that Zuckerberg will be one of the executives visiting the White House today, and given his criticism of the NSA, it makes sense for him to speak with Obama.
Along with Zuckberg, Google chairman Eric Schmidt will also attend the meeting. Executives from Twitter and LinkedIn will not be able to make it. Independent sources also stated that Yahoo CEO Marissa Mayer would not be able to go to the White House, though that has yet to be confirmed.
After the last meeting, Obama announced changes to some aspects of the NSA's surveillance but as more documents have come out, another meeting is apparently necessary.
Obama is scheduled to sit down with the tech executives in the Oval Office at 16:05 ET.
Question – Do you think meetings like this can bring any real change, or will the NSA remain the same?
Summary

: US President Barack Obama is meeting with tech executives in the Oval Office today. They will discuss privacy issues, many of which are expected to deal with the NSA revelations. Mark Zuckerberg and Eric Schmidt are both attending.

image credit: huffingtonpost