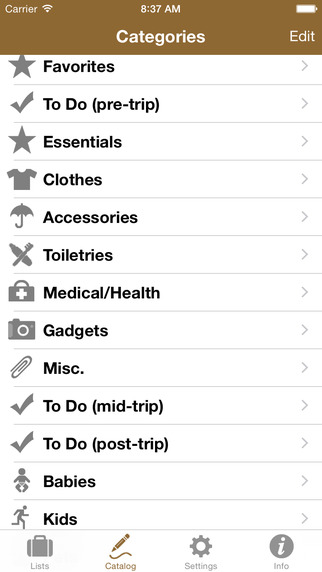 [app url="http://itunes.apple.com/us/app/packing-pro/id312266675?mt=8″]
Introduction
For the most part everyone loves to take a good vacation or travel around, but we all know those sudden rushes of fear just after departure that make us realize we just might have forget something. It's funny that no matter how much time you take to pack, there always seems to be something that slips your mind. This is especially true if you repeat that list of items in your head time and time again.
Back in 2012, Tapscape wrote an article on a very nifty app that can help solve this problem completely. The app we're talking about here is Packing Pro and since the launch of that review the app has made some tremendous changes to how it operates. If that isn't a good reason for an updated review then I don't know what is. So for all you travel lovers out there, what exactly is Packing Pro?
Packing Pro
With packing pro you can make your own lists of items and neccesities that you require for your travels. The app makes it extremely easy to compile a compact list of everything you need, including quantity, and gives you the power to completely check off the list before departure. I can only imagine this app to be a tremendous help for chaosheads around the globe—after all who doesn't like a little organizing help in life?
While the premise might be simple, Packing Pro is actually a genius app that has a lot of things going for it. For example, it features some great features like snapping pictures for each individual item on your list and a completely customizable interface.
The current version of Packing Pro
The updated version of Packing Pro also includes a list of beautiful new features.
The new features of the app:
New options for wireless sharing through Airdrop, Dropbox, Box & iCloud Drive
The option to add priority and "still need to buy" with icons and checkbox indications for list items
Layout options to display and preview item images directly on list page
A complete design revamp
Add alerts to your list items
Added a convienent back-up to email function with reminders
More convienent delete, organize and mage options for list items
List filters by bag or person
Airprint
Tapscape's final thoughts
Packing Pro is an amazing app for travel fanatis around the globe. Never having to worry about having everything is a real relief and it allows travelers to cope much better with the stress when departing. I suggest you check out the app if you're going on vacation anytime soon, because this is one of the apps you will definitely want to have on your phone.
Packing Pro requires iOS 6.0 and is compatible with iPhone and iPad