Prepostseo Paraphrasing App review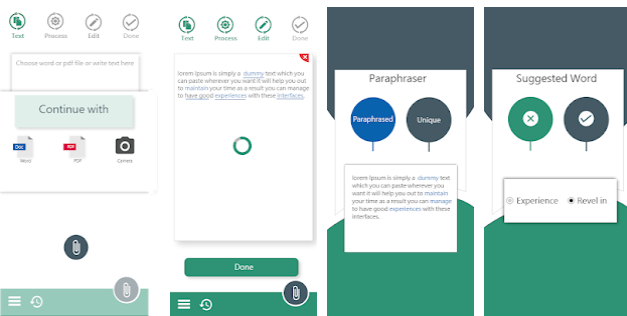 Internet is full of information. We can't possibly write about a topic in a totally different way than the ones which are already live.
For one reason, we all have the same knowledge about a thing or event.
So when it comes to writing about some topic, we strive to avoid plagiarism by paraphrasing the content.
Because obviously if an article out there has a line "BMI means body mass index" you can't write "BMI means basal metabolic rate", because that would be wrong information.
So what we do is to paraphrase the line to remove plagiarism. In this way, you have both unique and accurate content.
Paraphrasing Tool:
Sometimes you write all by yourself and when you check it there is still some amount of plagiarized content.
Now you didn't even copy it, so when you see the results like that, it frustrates you.
But tools like "paraphrasing tool" save you effort. All you need to do is to paste your plagiarized content material and press the "paraphrase" button to get a completely unique line.
Prepostseo Paraphrasing Tool:
Writers, students, teachers, and bloggers write almost on daily basis. I myself am one of them. In my writing experience, I've come across the "Prepostseo paraphrasing tool".
I've been using it ever since and I'm not exaggerating when I say it's a lifesaver. Before this tool, I would try to remove plagiarism by paraphrasing manually.
And it would take hours. So this tool is hundred percent recommended.
Prepostseo Paraphrasing App:
We all are familiar with the convenience apps have to offer. Last year in September 2020, Prepostseo launched their paraphrasing tool app.
Now it is easier than past because I can now upload documents directly from my mobile storage.
How does it Work?
This app changes your pasted content without altering the meaning. It does so by using different synonyms and changing the sentence structure.
The best thing is that it paraphrases it in a way that has zero plagiarism. Now, isn't that genius?
Features:
The apps are a lot handier than online tools. They save time and work faster.
I have used Prepostseo's different apps and the paraphrasing tool is one of them. This app has some brilliant features.
This app does not require some lengthy and time-taking login. You can continue with your Google account or sign up as you like. The design is sleek. You can easily copy-paste and get the results.
The standard paraphrase option changes the words with their suitable synonyms to avoid plagiarism. For example, I had this paragraph:
"I want to learn many languages and English is one of them. I chose English literature because I always felt an inclination towards it. I really like reading. Also, I love to know about different cultures and learning literature can satisfy this wish of mine to a great extent." (49)
I pasted it on the app and used the standard paraphrase option. The results were something like this:
"I desire to examine many languages and English is one of them. I selected English literature due to the fact I continually felt a tendency closer to it. I without a doubt like reading. Also, I like to learn about the unique cultures of the world, and gaining knowledge of literature can fulfill this want of mine to a large extent." (61)
And hey I got some extra words!!
The beta version of this app changes sentence structure. The same text was rewritten like this:
"I want to learn many languages and English is one of them. I chose English literature because I always had a penchant for it. I like reading very much. Also, I love getting to know different cultures and learning literature can satisfy this desire of mine largely. "
Easy to upload and download:
You can easily upload PDF or Word documents. And after paraphrasing, you can directly download it in the form of a PDF or Word document.
You can download it through this link:
https://play.google.com/store/apps/details?id=com.prepostseo.paraphrasingtool
Comparison with other apps:
It's not like this is the only app that I have used. I had downloaded some other apps from the play store in the past and didn't like them very much. For example:
Paraphraser:
This app requires quite an amount of information for signing up whereas Prepostseo's doesn't.
I tested the speed of both and Prepostseo was way faster. Another inconvenience I faced was you had to have a title of content for the app to paraphrase.
And it only changes the words while Prepostseo's beta version can change the sentence structure as well. It also does not have an option of uploading files from your device's storage.
Where this does not require you to sign up, it comes with the drawback of no download or upload option.
Its design is boring and has only one option. And in comparison to the Pre post paraphrasing tool app, it changes the content to a limited extent.
Article spinner and rewrite:
This app is quite similar to IPharaphrase. Limited options and unsatisfactory results. No download, upload, and save options.
Prepostseo's app comes with word suggestions while this one has no such option.
Conclusion: 
After using all of these apps and comparing them, it's evident that the Prepostseo paraphrasing tool app is the best choice for everyone.
I'm fully satisfied with it and recommend it to every writer who is struggling with paraphrasing.