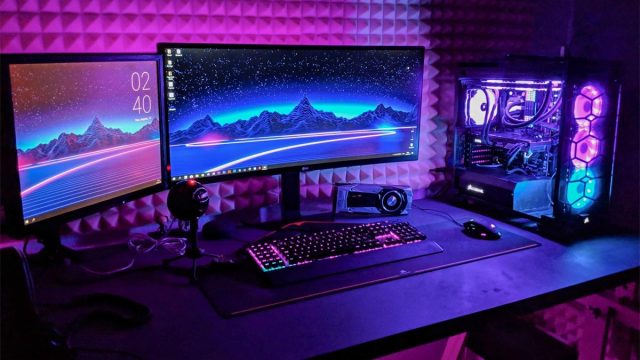 PC gaming is one of the most popular activities across the globe. Millions of people around the world enjoy playing games on their computers. If you enjoy gaming, you know that a good gaming computer is essential for the best experience.
If you are in the market for a new gaming system, you may wonder where to start. In this blog post, you will learn about some questions you should ask a gaming PC company before making your purchase.
What Is a Gaming PC?
A gaming PC is a personal computer designed to play video games that require a high amount of computing power. Gaming PCs are similar to general-purpose computers, but they often have higher-end components than a standard PC.
Games that require a personal gaming computer include first-person shooters, role-playing games, and multiplayer online games. They typically have a powerful processor, a high-end graphics card, and a large memory and inbuilt cooling system.
Some PCs also have special features such as programmable buttons and RGB lighting. This is unnecessary for all games; many games can be played on a standard personal computer or a console, such as the PlayStation 4 or Xbox One.
However, for gamers who want the best possible experience, a gaming computer is the way to go.
Types of Gaming PC
When looking for a gaming PC, you will need to decide which type of gaming PC you want. The two main types of gaming computers are pre-built and custom-built.
Pre-built gaming PCs are computers that have been assembled by a company and then sold to customers. These come with all the necessary components for gaming, and they are usually cheaper than custom-built ones.
However, pre-built systems may not have the exact specifications that you want. Additionally, some companies overcharge for pre-built ones. If you decide to go with a pre-built computer, make sure to do your research on the company before making your purchase.
Custom-built gaming PCs are computers that an individual or a company has assembled according to the customer's specifications. A custom-built personal computer can be more expensive than a pre-built one, but it will have the exact components you want.
Additionally, custom-built systems usually have better performance than pre-built systems. If you have the budget for a custom-built computer, it is definitely worth the investment.
Now that you know about the different types of gaming PCs, let's move on to the questions you should ask a company before making your purchase!
Questions To Ask a Gaming PC Company
-What Is the Quality of Your Gaming PCs?
When it comes to personal gaming computers, quality is essential. After all, you want a PC that can handle even the most demanding games. That's why it's crucial to ask a gaming computer company about the quality of their product before making a purchase.
-How Much Customization Do You Offer?
Most gamers want a PC that is tailor-made for their gaming needs. That's why it's important to ask a gaming PC company about the level of customization. Many companies have different levels of customization, so it's essential to find one that meets your needs.
-What Is Your Return Policy?
It's essential to know a company's return policy before purchasing. You want to be sure that you can return the product if it doesn't meet your expectations. Be sure to ask about a company's return policy before making your purchase.
-How Much Do Your PCs Cost?
Of course, the cost is always an important factor when purchasing anything. Before making a decision, you should inquire about the price of a gaming computer. Many brands have various pricing tiers, so locating one that works within your budget is crucial.
-How Long Do Your Gaming Systems Last?
This is an important question to ask before making a purchase. The last thing you want is to buy a computer that will only last a few months or even years. You want to find a company that builds long-lasting systems. One way to find out is by reading online reviews. Another way is to ask the company directly.
-What Kind of Warranty Do You Offer?
When it comes to electronics, a warranty is always important. If something goes wrong, you want to be sure that you're covered. Be sure to ask a computer company about their warranty before making your purchase.
-Do You Offer Any Discounts on Your Gaming PCs?
While no discounts are necessary, they're always appreciated, especially on significant purchases like gaming PCs. Before you make your purchase, check whether a company offers any promotions and offers.
If you're looking to buy a gaming PC, it can be difficult and time-consuming. Before making your purchase, many factors need to be considered because each gamer has different needs. Ask the right questions to get the most out of your purchase.