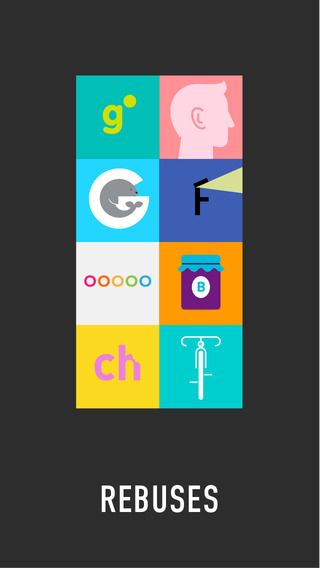 [app url="https://itunes.apple.com/us/app/rebus-absurd-logic-game/id966536279?ls=1&mt=8″]
Introduction
Hey people, hope you are doing great! Today I woke up and had to do another review for Tapscape which is Rebus by Jutiful—an absurd logic game full of colorful brain-teasers. Perhaps a bit too early for a game that requires so much thought but I decided to give it a spin nonetheless! Want to know if the game is something for you? Read on!
This is going to take a while..
As a competitive gamer myself I do like a challenge. You can imagine I started up the app full of hope and confidence but it was easily shattered by the witty puzzles I confronted in Rebus. The game does, however, do a great job at introducing the players to it with a short but insightful tutorial which already gives you the answer to a few starting rebuses.
After the tutorial I was on my own, having an extremely large amount of rebuses for me to solve. The game gives you around 30 rebuses to solve before you are allowed to solve the next set, but you have to clear every single one before you can move on which grew frustrating over time.
At times I just wanted to solve some more rebuses, but because I didn't clear on or two I couldn't move on. The game does have its options to work around that, which come in the form of coins. These coins can be amassed by paying for them or you can choose to watch an ad which gives you 100 free coins.
Solving a rebus requires 1500 coins which means that you'll have to sit through 15 ads if you want an answer to a single rebus. No one in their right minds would want to do that, so I guess in the end it's just a really smart marketing strategy (credit kaufman). Personally I felt the need to just quit the game instead, which makes this approach maybe less of a smart marketing strategy.
Our conclusion
Rebus is an app that absolutely looks terrific with extremely sharp puzzle graphics all around and its reactive interface and design allows you to easily browse through the available rebuses. I had quite a lot of fun with this game but the developer could work on making more rebuses available at the beginning so the learning curve doesn't feel that steep. I can imagine it might put some players off.
Rebus requires iOS 7.0 and is compatible with iPhone and iPad