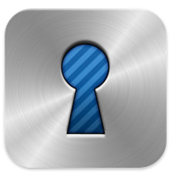 oneSafe iPhone App Review
Price: $5.99 Score: 9/10 Category: Productivity
For people always on the go, life is full of random bits of information that need to be remembered. Phone numbers, logins and passwords for work and play, account numbers, frequent flyer numbers…the list is endless.
In the face of rampant identity theft, using a generic login and password is neither safe nor wise, and in a house with a toddler and a paper-chewing dog, writing them down on bits of paper isn't a feasible option.
So, what is a busy person do to keep all their secure information, well, secure? Thankfully, Lunabeehas you covered with oneSafe, an iOS application designed to keep your personal data and documents both secure and close at hand.
Like a Rolodex of personal information, oneSafe allows you to enter your information onto digital cards saved behind a locked interface. For the most private of information, you can set up a "double protection" area, which is recommended for items such as financial information or if your initial password was "weak". (Though, why you would choose a weak password initially if you're relying on a virtual "safe" to secure your data is beyond me…)
It is a simple process to add cards to your safe. Users can choose from a multitude of preformed cards to fill in their data, or can scroll to the bottom and design custom cards and organizational categories to better suit their needs.
One of the most handy features is the ability to launch a website directly from oneSafe through their privately designed dedicated web browser; a simple tap on the card for the site you want to visit and a tap on the arrow brings you to the site and logs you in automatically. This feature has been available in most browsers via cookies for many years, but oneSafe allows you to safely do so without the fear of someone being able to hijack your account as soon as you leave your machine.
A few other notable features include the ability to email a card, presumably to yourself in the event that you are going to be without access to your iDevice or that you find it necessary to share your data with another person.
Of course, there is no guarantee as to the security of the email transmission, so it may not be the wisest of choices. And finally, for the extraordinarily paranoid, there is an actual self-destruction feature in which all your saved oneSafe data is wiped after three failed login attempts.
Like all things, oneSafe is only as secure as you allow it to be. But, for this on-the-go mommy who can't remember her passport number from her social security number, having everything securely organized and supported seamlessly between my iPhone and iPad with iCloud is a lifesaver.
oneSafe (iTunes link) is available from the iTunes store for the iPhone and iPad. A small expedite fee was paid by the developer to speed up the publication of this review.