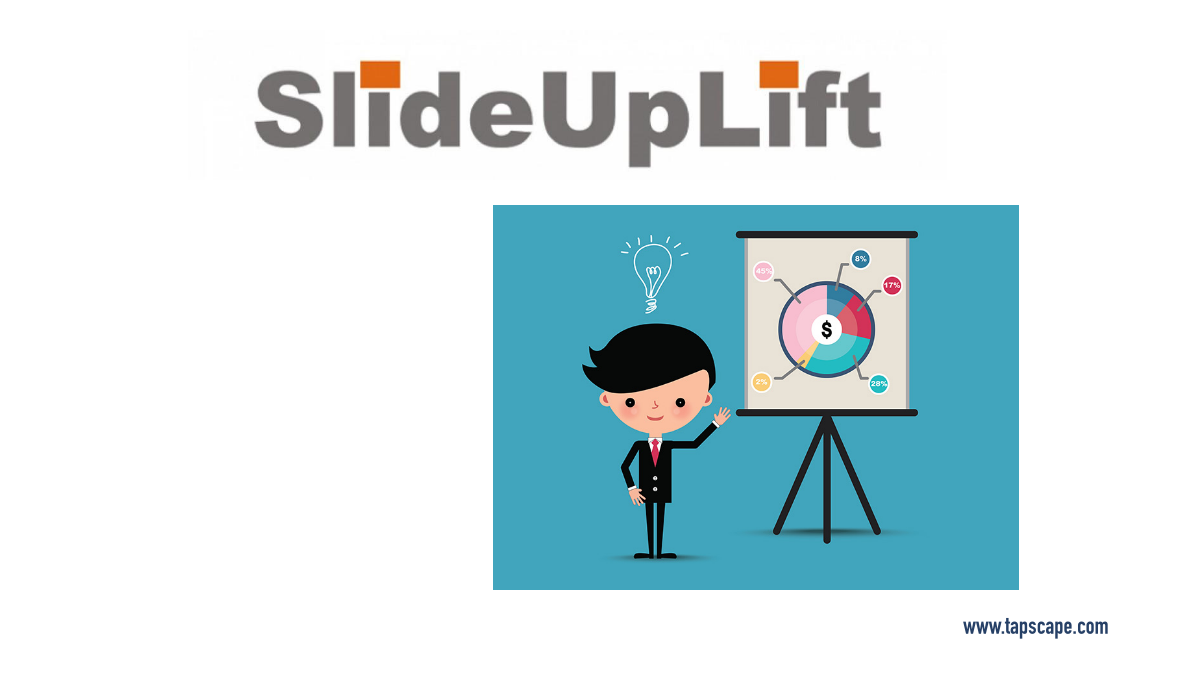 Have you ever felt the need to make a professional-looking presentation at short notice? In such a scenario, you mustn't waste your time designing your presentation from scratch. It will eat up a lot of your time and take away focus from the main content of your presentation.
A quick way around this problem is a readymade presentation template or presentation deck that is pre-designed to give you the starting point and the best looking visuals and professional designs that you need to make a stunning presentation.
SlideUpLift: The Biggest Repository of Presentation Templates and PowerPoint Decks
One of the most sought after libraries of presentation templates and decks is SlideUpLift. Although a newcomer, SlideUpLift has made a name for itself by being the biggest library of quality and professional presentation templates.
Though their library is highly diverse and suited to every industry and function, their special focus is on business presentation templates. Their business presentation templates are specially designed to meet all the presentation needs of business professionals.
SlideUpLift's presentation templates are based on the principles of vision science and storytelling principles. They utilize the optimum combinations of shapes, colors, fonts, and proportions to provide you with the most engaging slide.
Let's have a look at SlideUpLift's most popular business presentation templates that are used by business executives all over the world.
Timeline PowerPoint Templates:
SlideUpLift offers a vast collection of timeline PowerPoint templates that you can use to showcase your project timelines, key milestones, business highlights, company history, and evolution in a visually appealing manner.
Designing a visually appealing and professional timeline can be an extremely tedious and tiresome process. Through SlideUpLift's timeline PowerPoint templates you will be able to create timelines in a matter of minutes. Just choose your desired template, insert your content and there you have it, a professional and engaging timeline that helps you visualize and simplify complex information.
Click here to check out SlideUpLift's vast PowerPoint timeline template collection. 
30 60 90 Day Plan Templates
30 60 90 Day Plan Templates are great at showcasing your quarterly or monthly planning to senior management and stakeholders. You can also easily map out your priorities and individual goals accurately and succinctly for a quarter. Every professional should fill up a 30 60 90 day plan template quarterly to meet his professional objectives.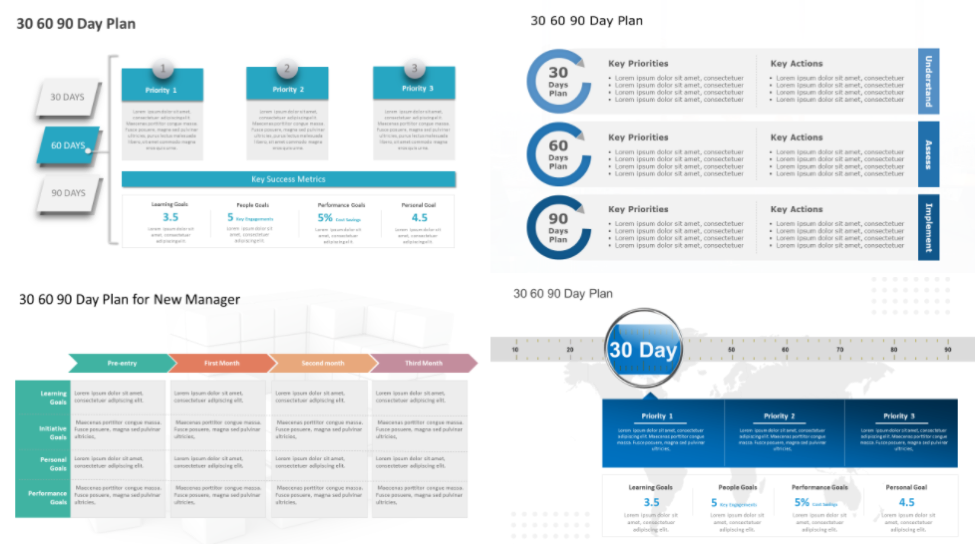 Executive Summary Templates:
As a presenter, you have limited time on your hands. You have to be concise, informative and ensure that you complete your presentation within the allotted time. An executive summary is especially helpful in such scenarios as it provides your audience a complete overview of your presentation in the least amount of time. Thereby helping the audience get a gist of your whole presentation.
SlideUpLift's executive summary template collection is specially designed to showcase your information in a clear, concise, and visually appealing manner.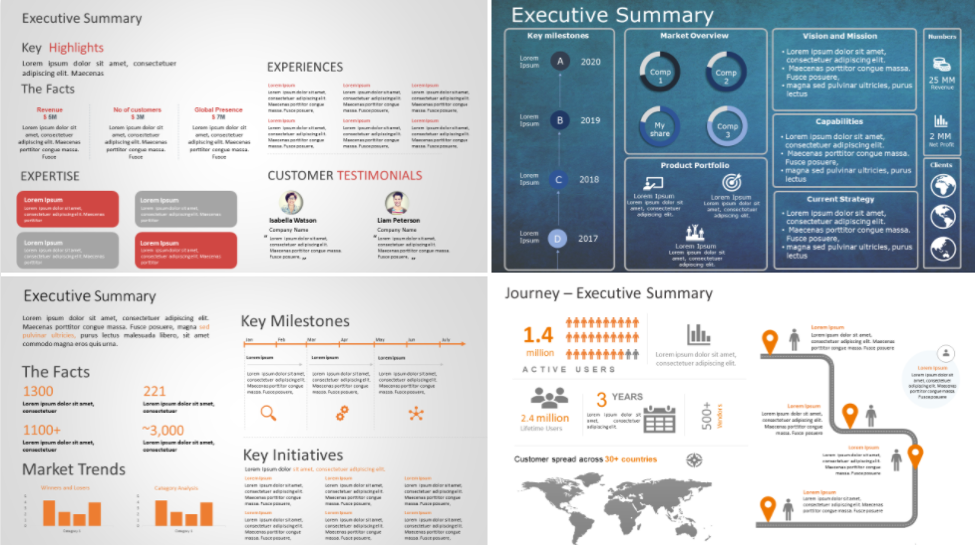 Roadmap PowerPoint Templates:
Our team often needs to make presentations highlighting our strategies and plans for the upcoming months, quarters, or even years. Roadmap PowerPoint templates are especially useful in such situations as they help our audience visualize and understand complex information.
Through visually appealing infographics, these roadmap PowerPoint templates help convert complex information into bite-sized pieces that everyone can easily understand. Thus, helping you impress your plans and strategies onto everyone in the audience. 
SWOT Analysis PowerPoint Templates:
SWOT analysis is a framework that helps you identify your organization's internal strengths and weaknesses & the external opportunities and threats. SWOT analysis is therefore an extremely important aspect of any business presentation. SlideUpLift offers a vast collection of SWOT PowerPoint template that you can use to showcase your SWOTs in a visually appealing and creative way. 
Strategy PowerPoint Templates:
To ensure that everyone in your organization is up-to-date with the overall organizational strategies, you can use these strategy templates that will help you instill a sense of direction in the organization by bringing everyone on the same page. 
Why SlideUpLift?
Add-to-cart Feature – Through this feature, users can purchase individual templates by simply adding them to their carts. This means that SlideUpLift users are not forced to purchase membership plans.
High Quality and Professional Templates at Affordable Rates – There are a total of 5 pricing plans that the users can choose from. The affordable is the Essential Plan that starts at just $9.99. Click here to see pricing plans.
PowerPoint Add-in (available with every membership plan) – SlideUpLift's Add-in is seamlessly integrated with MS PowerPoint and will let you browse through SlideUpLift's vast presentation template collection from within PowerPoint. Thus, making your presentation-making process efficient and productive. 
SlideUpLift Blog – An excellent repository of presentation hacks and tips that will help you make powerful presentations.
YouTube channel – A great collection of short and informative videos on using PowerPoint effectively, hacks for building great business presentations, creative infographics, and the most effective ways of presenting. 
Conclusion:
If you are someone who needs to make visually appealing and professional presentations without wasting your valuable time, then SlideUpLift will be your best companion. Their pan-industry template collection is guaranteed to serve all your presentation needs. To give SlideUpLift a try, use their free PowerPoint templates to get started.